SLU's knowledge bank
Patellar ligament desmopathy in the horse – a review and comparison to human patellar tendinopathy ('Jumper's knee')
Last changed: 02 March 2023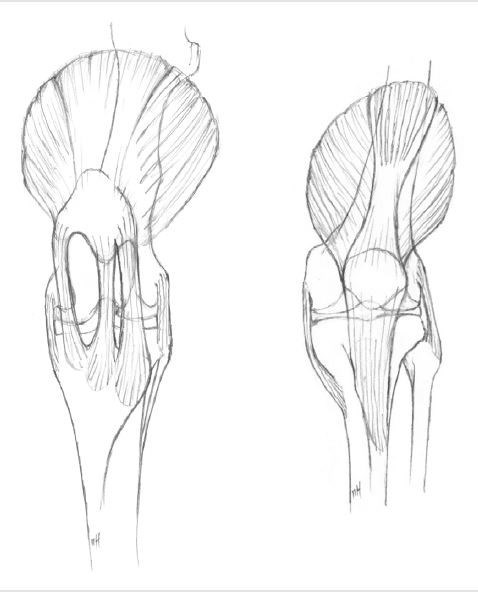 Patellar ligament desmopathy in horses is regarded as an uncommon condition with unclear aetiology. Of the three patellar ligaments in the horse, the intermediate is the one most often diagnosed with desmopathy in horses presenting with chronic lameness. This structure corresponds to the patellar tendon in humans. As diagnostic imaging modalities continuously improve, changes in echogenicity of the patellar ligaments are identified ultrasonographically with increasing frequency.
However, disruption of the normal fibre pattern may be present also in patellar ligaments in horses that show no signs of lameness. Similarly, there is a poor correlation between pain and diagnostic imaging findings in human patellar tendinopathy. Consequently, there appears to be a knowledge gap pertaining to normal ultrasonographic variation and diagnostic criteria for disease of the patellar ligaments in horses. Furthermore, local anaesthetic techniques to verify the diagnosis are poorly described, and due to the low number of treated cases, no specific treatment modality can be recommended on a scientific basis.
The aim of this paper is to review the current knowledge regarding the pathogenesis, diagnosis and management of patellar ligament desmopathy in horses, compare this condition with patellar tendinopathy in humans, and identify areas for further research to increase the diagnostic accuracy in horses.
We conclude that there is a profound need for better descriptions of ultrasonographic variation and pathological changes of the equine patellar ligaments. Identification of areas of maximal ligament strain and descriptions of early histopathological changes could render more information on the possible aetiology, preventive measurements and treatment options of desmopathy. Description of regional innervation could aid in development of methods for diagnostic anaesthesia to verify pain originating from the ligaments.
Link to the publication
https://doi.org/10.3920/CEP220011
Reference
L. Wright, E. Hernlund, C.T. Fjordbakk, B. Ytrehus, E. Law, M. Uhlhorn, and M. Rhodin. Patellar ligament desmopathy in the horse – a review and comparison to human patellar tendinopathy ('Jumper's knee'). Comparative Exercise Physiology 2023 19:1, 27-39.
---
Contact
Linda Wright
External resource at the University Animal Hospital; Horse Clinic
Telephone: +4618672148
E-mail: linda.wright@slu.se