Uppsala Health Summit 2019
Last changed: 28 May 2020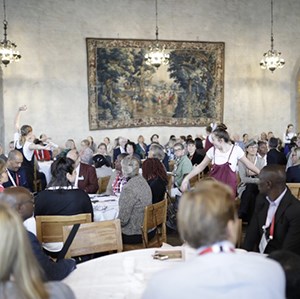 In early October, Uppsala Health Summit 2019 gathered more than 200 persons from countries all over the world, who met and discussed how we can improve urban health for children.
Uppsala Health Summit is an international arena where delegates participate in solution-oriented dialogues in workshops, inspired by keynote presentations and debates in plenary sessions. Delegates come from different sectors and countries, and bring a diverse set of competencies to the tables, which creates the best conditions for enriching conversations and opportunities for establishing useful new relations.
The 2019 theme, Healthy Urban Childhoods, focused on how to strengthen the child perspective in urban planning to create healthier and more inclusive cities for children.
"We need to create cities where children are healthier, get more exercise, and are able to get together without needing adult supervision," says Petter Åkerblom, senior lecturer in landscape architecture at the Swedish University of Agricultural Sciences, SLU, and chair of the programme committee of Uppsala Health Summit 2019.
More information
Interviews

with

Petter Åkerblom:
---
Contact