About SHa
Last changed: 12 May 2022
The aim of SHa is to provide decision support tools and analyses related to forest resource development – including the production of goods and services – to policy developers, decision makers and managers within sectors like forestry, environment and energy.
Projections of forest resource development and the corresponding production of goods service make up the base for SHa forest scenario analyses as well as for management planning. The SHa main focus is to make analyses of goods and services closely related to the central part of above projections; development of trees and stands, such as timber and bio-fuel production, carbon sequestration, recreation potential and habitat availability. However in collaboration with other disciplines and research areas aspects such as water quality and soil factors are examples of further potential areas.
How it all started
There was a need for a new generation decision support system within the forestry and environmental sectors, a system that could handle new and more issues and goals within forest analysis and management planning.
From this need, the Heureka research programme arose in 2002, led by SLU with Skogforsk as partner. It was, during the first phase of the programme between 2002-2005, mainly financed by Mistra, SLU and Skogforsk. During the second phase, 2005-2009, the Swedish Forest Industries Federation (Skogsindustrierna) and the Kempe foundations stepped in as financers. The participation from SLU was ample with a large number of different departments and some 20 researchers from different fields as well as programmers, system developers, communication officers and administrators involved.
Forest sustainability analysis (SHa) was created in 2011 with a great many familiar faces from the research programme. We took over the maintenance and development of the Heureka system and gathered key competence within forest impact analyses under one roof.
Projects
SHa both initiates research and development projects and takes part in projects initiated by others. For example, in collaboration with the research programme Future Forests Opens in new window at SLU, SHa elaborated landscape scenarios for the Sveaskog "growth park" Strömsjöliden. On Strömsjöliden Sveaskog studies the potential for a drastically increased timber and bio-fuel production in collaboration with SLU. In the project such a scenario as well as alternative, contrasting scenarios were elaborated. The scenarios were used in cross-disciplinary discussions within the research programme.
SHa is involved in two EU FP7 projects: INTEGRAL Opens in new windowthat concerns policy process on the one hand and local management on the other, and ARANGE Opens in new windowthat concerns forest management in mountain areas.
---
Contact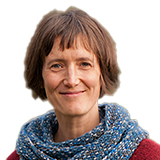 Jeannette Eggers, Researcher / Program Manager SHa
Department of Forest Resource Management / SHa, SLU
jeannette.eggers@slu.se, +46(0)90-786 8305, +46 (0)72-203 5026