SLU news
The Swedish delegation is ready for Oregon
Published: 04 September 2018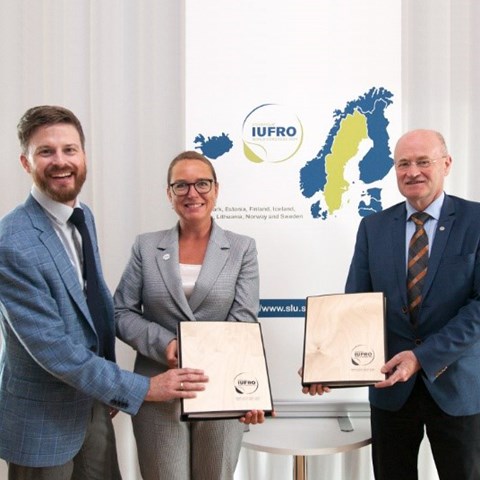 The host for the IUFRO World Congress will be suggested by IUFRO board on September 11th in Corvallis, USA. A delegation from the Swedish University of Agricultural Sciences is now ready to present the Nordic bid in Oregon.
An extensive application process takes place every 5th year and we are close to the end of this process for the IUFRO World Congress 2024. The Nordic and Baltic bid is short listed, only three candidate cities remain for the final stage in Corvallis; Stockholm, Paris and Moscow.
The decision about the host for IUFRO 2024
The decisions by the board in September is a recommendation to the International Council that will take the decisive decision in the end of September. The decision is based on the bid document send in May 2017, the result of the site visit and the presentation in front of the board. A Nordic-Baltic delegation with SLU's vice chancellor Peter Högberg, Vice Dean Jonas Rönnberg, Coordinator Fredrik Ingemarson and Coordinator Karin Hornay will travel to Oregon to present the bid on September 11.
Community spirit
The application process has been characterized by a strong community spirit and future expectation of an upcoming hosting of the IUFRO world congress. Several workshops has been carried through, and researchers, students, stakeholders, as well as Professional Congress Organizer has contributed with impressive energy into the process.
Recent IUFRO World Congresses
The most recent IUFRO World Congresses were held in Brisbane, Australia, Seoul, South Korea and Salt Lake City, U.S.A. In 2019 the congress city will be Curitiba, Brazil. The next host will be European!
Stockholm as host city
The geographical position of Stockholm makes it swiftly to travel to the neighbouring countries in the region. Stockholm ranks highly as an international congress city and has excellent transport links as well as a wide range of accommodation options in the city, from where it is just a short journey by direct train every 10th minute to the Congress venue, Stockholmsmässan. The in-congress excursions cover all IUFRO Divisions and the planning process of the excursions has been characterized by wide range of stakeholders involvement.
IUFRO World Congress
The International Union of Forest Research Organizations (IUFRO) is a non-profit, voluntary, international scientific union open to all organizations and individuals involved in forestry, forest products research and policy making. The World Congress, attracts 3 – 5000 participants from all over the world, including representatives from governments, NGO's and industry.
---
Contact