Oxytocin candidate genes and maternal behaviour of sows
Last changed: 01 February 2018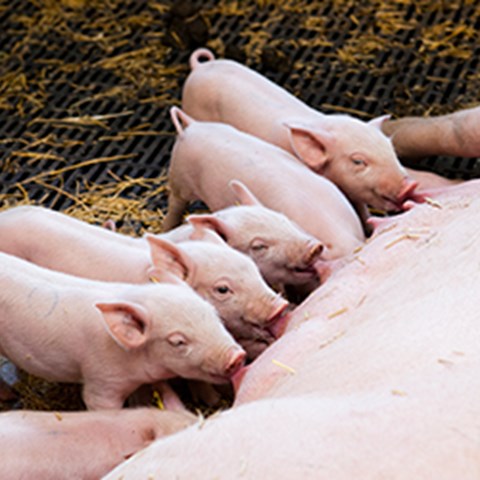 Oxytocin is known as a mediator of wellbeing but it is difficult to measure in sows. This is the first study investigating association of genes related to oxytocin and maternal behaviour with piglet survival and growth.
The long-term aim of this project is to increase pig welfare by improving the maternal ability of sows. We investigated the molecular genetic basis of the oxytocin gene and some other genes related to oxytocin levels and maternal behaviour in sows. We have found genetic variation in candidate genes for maternal behaviour among Swedish Yorkshire sows, and significant associations of SNP in (or close to) five of the chosen candidate genes with the traits mean birth weight, piglets stillborn of total born and relative weight change of sow during lactation. Most of the associations were either identified in the first or second parity, indicating strong differences between the traits across these early parities. According to preliminary results there are also some associations of SNP in (or close to) six of the chosen candidate genes with maternal behaviour. These associations suggest that SNP can provide knowledge about sows' capacity to raise large litters.
Facts:
The project is funded by: Formas
Project Leader: Lotta Rydhmer
Other contributors: Elisabeth Jonas
---
Contact
Elisabeth Jonas
Researcher at the Department of Animal Breeding and Genetics; Quantitative genetics
E-mail: elisabeth.jonas@slu.se
---
Jonas, E, Rydhmer, L. 2018. Effect of candidate genes for maternal ability on piglet survival and growth. Livestock Science 207, 83-90
Rydhmer, L, Jonas, E. 2016. Oxytocin candidate genes and maternal behaviour of sows. 67th EAAP meeting, Belfast, UK. Session 60.
Jonas, E, Rydhmer, L. 2016. Effects of oxytocin genes on maternal behavior in sows. 26th Nordic Regional Symposium of the International Society for Applied Ethology. Danish Centre for Food and Agriculture (DCA) report 070.

Page editor: andrus.kangro@slu.se