SLU's knowledge bank
Research for longer life of Labrador Retrievers
Last changed: 05 July 2018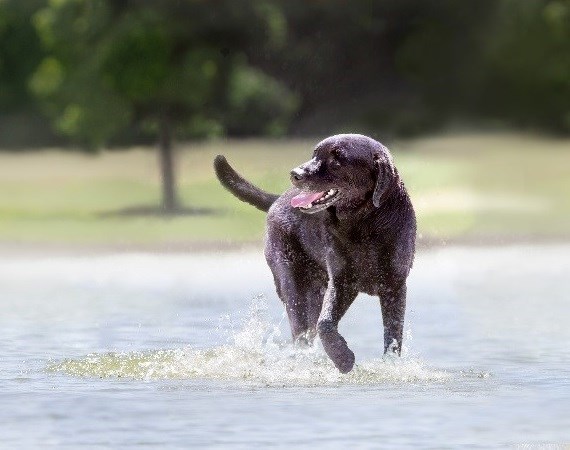 Dogs are by many seen as family members and for most dog owners it is desirable to keep the dog for as long as possible. It is therefore important to increase the knowledge on how we best keep dogs, to give them long lifes of high quality.
Researchers from the Swedish University of Agricultural Sciences, together with British and Swiss colleagues, have investigated the prerequisites for long healthy lifes of dogs. The longevity of 39 labradors, held as a group from about 6.5 years to their death, was in this study compared with the longevity of labradors from three previous scientific studies. The dogs in the present study were fed to maintain a healthy body condition, and received appropriate husbandry and healthcare.
The dogs of the present study lived longer than the dogs in the three previous control groups. Nearly 90% of the dogs reached 12 years of age, compared with about 30% of dogs in control groups. In addition, 28% of the dogs became over 15.6 years, which is classified as very old. One male lived to become 17.9 years, which is rare among dogs this size.
The study shows that preserved muscle mass and low increase in fat mass with increased age is related to longer life in labradors, unlike for example sex and nutering status.
Link to the publication
http://veterinaryrecord.bmj.com/content/182/14/408
Reference
Adams VJ, Ceccarelli K, Watson P, Carmichael S, Penell J, Morgan DM. Evidence of longer life; a cohort of 39 labrador retrievers. Vet Rec. 2018 Apr 7;182(14):408. doi: 10.1136/vr.104167.
---
Contact
Johanna Penell
Lecturer at the Department of Clinical Sciences; Division of Veterinary Nursing
Telephone: 018-673413, 073-0858031
E-mail: johanna.penell@slu.se