Welcome to the SLU Knowledge Garden
Last changed: 19 April 2021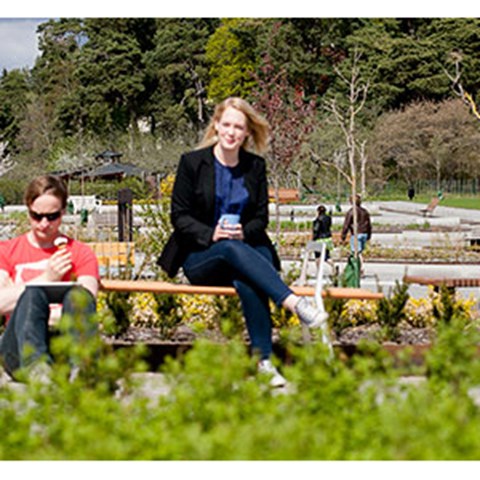 The SLU Knowledge Garden, including Ullbo Woodland Garden, is a demonstration facility for teaching and research at SLU in Uppsala. It is also a space for recreation and inspiration – open to all.
Find your way to the SLU Knowledge Garden
The SLU Knowledge Garden in brief
The SLU Knowledge Garden extends over 18,000 square metres and is part of the new campus at SLU in Uppsala. The character of the park varies in four main areas:
The southern area is called Staden (the City) and adjoins the Logen restaurant at Ultuna. This area is characteristically strict, densely planted and shaded, with vegetation that blends into the urban environment.
Staden leads to Trädgården, (the Garden), which is more open and less regimented. Here there are hedges and beds of perennial flowers.
Adjoining Trädgården the visitor will find Ullbo Woodland Garden.
Further north there is Odlingen (the plantation), which is an experimental area, comprising the Oktavia pavilion. Also, you find 14 lawn grass species and a Rosarium with healthy and hardy roses that do not need so much tending.
See pictures from the garden on the Swedish webpage.
Plant lists and plantation plans
Here you find leaflets which shows which plants are planted where in the Knowledge Garden. They are also available in the garden.
---
Contact
---
Links