Research in Business management
Last changed: 03 August 2023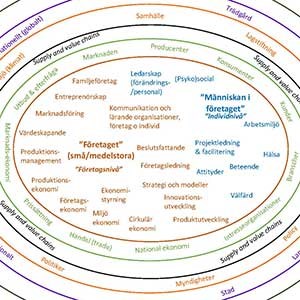 The Business management area aims to develop knowledge and increase awareness of economically and socially sustainable business operations in the green sector (SME), focusing on 'the business' and 'the person in the business', i.e. Doing good for people and the planet, at a profit.
The focus in research is on business administration, with a business management profile. Priority sub-areas are production, environmental and circular economics, business strategy models, entrepreneurship, innovation, marketing, management, leadership and organisation, work science and knowledge transfer, in agriculture, horticulture and landscape, at societal, business and individual level, in urban and rural areas, and at national and global level.
Research in the subject area aims to help solve complex problems linked to major global challenges, e.g.: No poverty, Zero hunger, Good health & wellbeing, Gender equality, Decent work and economic growth, Industry, Innovation & infrastructure, and Responsible consumption & production. Qualitative and quantitative research methods are used to solve complex problems and issues, contributing to positive and sustainable economic, social and ecological development for green sector businesses and workers.
The subject area also aims to act as an agent of change for the sector through active collaboration with other actors, so research is characterised by interdisciplinarity, systems thinking, a holistic perspective, applied research and knowledge implementation together with sector actors and other bodies within and outside SLU.
---
Contact