Rehabilitation of land reclamation facilities
Last changed: 02 May 2022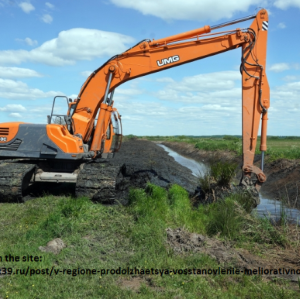 Land reclamation is the process of creating new land for agricultural production. For example by drainage of lakes and flood plains. Renovation and development of these reclamation facilities is extremely relevant for the Kaliningrad region.
Since 2019, the Kaliningrad Oblast has been actively restoring and developing its land reclamation system; hydraulic engineering and land reclamation facilities have been brought into working order. To this end, the reclamation sector is being financed from the federal budget. In addition to direct financing of such works from the regional budget, subsidies are provided to agricultural producers (farmers) for the restoration and maintenance of land reclamation facilities.
The subsidising mechanism consists in reimbursing part of the costs of land reclamation works by farmers, which reduces the financial burden on their own budgets.
Subsidies are provided in several areas:
reimbursement of part (60%) of the costs associated with the implementation of land reclamation works on land converted to agriculture;
partial (90%) compensation of expenditures connected with the liming of acidic soils on arable land;
partial (70%) compensation of expenditures on irrigation and drainage activities (construction, reconstruction and technical re-equipment of irrigation and drainage systems, hydraulic structures, etc.).
Localisation and practical implementation
Subsidizing of land reclamation works is extremely relevant for Kaliningrad region, as its territory is located in the zone of excessive moisture and almost all agricultural land is reclaimed. At the same time, agriculture is seen as one of the most important areas of socio-economic development in the region, and the improvement of land reclamation is associated with the development of crop production and increase in agricultural output as a whole.
Effects, duration and maintenance
The region's ability to rehabilitate, optimize and develop its land reclamation system is directly linked to federal investments, which have been stepped up for many years since 2017 and have been increased six-fold. Thanks to this, helped to repair 186 km of on-farm reclamation canals, lay 149 km of closed drainage, lime treatment on 6.8 thousand ha, and improve the reclamation condition of 14.2 thousand ha of agricultural land. In the absence of federal support, the ability of regional authorities to develop the land reclamation system as a whole and subsidise farmers' costs for this purpose will be extremely limited. The subsidy programme is most beneficial for large tracts of cultivated land (from 200-300 ha), while it is not applicable to individual small flooded areas.

Land reclamation - extended description
Land reclamation - links to resources
Author and contact:
Irina Popova, Administration of Gurievsk city district, Kaliningrad region, Russia.


---
Contact