Alnarp park
Last changed: 06 April 2021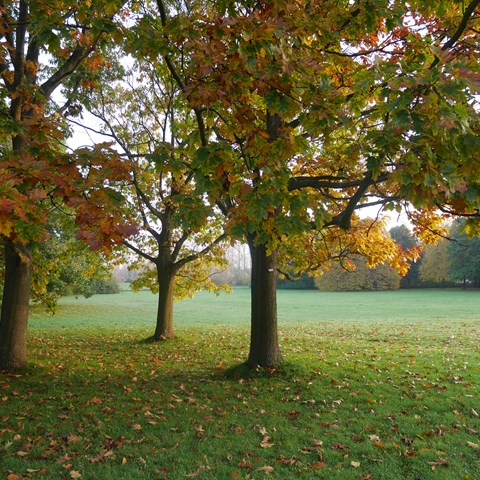 A visit to the park is a rewarding experience at any time of year. A rich palette of colours is displayed in summer and the beautiful forms of bare trees – sometimes snow-clad – are revealed in winter. Trees, shrubs, herbaceous plants from around the world and unique bird species can be seen here. Visitors will find ideas for their own gardens among the plants on display. The park also offers a breathing space for reflection and recreation.
Historical ground
Much of the present-day Alnarp Park has probably been wooded land for 10,000 years, i.e. ever since the ice sheet retreated from Skåne. In the 12th century Alnarp, or "Alnethorp", was an extensive estate. In the mid-14th century it belonged to a Danish knight.
Following the peace treaty of Roskilde in 1658 Alnarp came into Swedish hands, and later became a crown estate. In the mid-1700s Alnarp Forest was probably Sweden's only elm forest. The remains of the forest still exist.
Work began on designing Alnarp Park in 1859, the same year that construction of the castle began. The castle was finished in 1862. The "Agricultural Institute" was inaugurated and the first course in agricultural science was held. The park was completed in the early 1880s. The gentle topography of the park and its winding paths reflect the romantic ideals of a landscaped park.
One of Sweden's largest botanical collections
Exotic plants began to be collected when the park was created, and the process continues. A speciality of Alnarp Park is lignoses – woody plants. The park's 2,500 or so species make it one of the most species-rich in the country. Trees, shrubs and herbaceous plants from all four corners of the earth are represented.
A new collection of plants was created between 1975 and 1978, including needle-leaf trees. The trees receive enormous care and attention to ensure they remain healthy and beautiful in the future. The park is also a tremendous teaching asset. The plants therefore have signs showing their Swedish and scientific names.
Each year a garden of mixed annuals and bedding plants is created. The adjacent garden features a large selection of blooming perennials and other plants.
---
Contact
Anette Neldestam Larsson
Communications Officer at SLU Alnarp
Tel: +4640415004, +46708470737
Email:anette.neldestam@slu.se