Rangeland and livestock management practices for improved livelihood in miombo woodlands in Tanzania
Last changed: 14 December 2020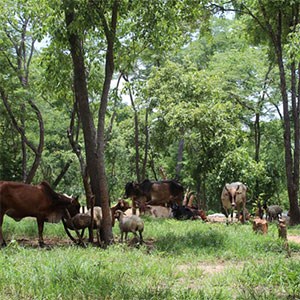 The general objective of this project is to enhance food security in Tanzania through improved rangeland and livestock management practices in miombo woodlands.
This area in Tanzania is a dryland biome in the east and south-central parts of Africa and home to around 100 million people. These dry woodlands perform different environmental services including grazing resources for livestock. There is imbalance between conservation and utilization of miombo woodlands and this is mostly due to agricultural activities. Moreover, rapid population increase in the region coupled with high animal source food demand pose a threat in the available natural resources.
Therefore, a land use plan was initiated by different stakeholders in Kilosa district, Eastern Tanzania for efficient and sustainable utilisation of miombo woodlands. Selected village land was allocated for different socio-economic activities such as conservation, grazing and farming. However, allocated area for grazing is communally owned and lacked empirical information on its managements and condition.
This project was undertaken to answer the following specific questions:
What is the current rangeland-livestock management practices in allocated miombo grazing area?
What is the rangeland condition of the grazing area?
What is the appropriate stocking rate of the grazing area?
What forage species could be introduced as animal diets to improve their productivity?
The study is first of its kind in this area and it is expected to provide insights in uses of miombo woodlands in Africa for livestock production.
Doctoral student:
Main supervisor:
Assistant supervisors:
Cecilia Kronqvist and Gert Nyberg
---
Contact