PhD course Forest regeneration 2021 Course code PFS0158
Last changed: 11 November 2022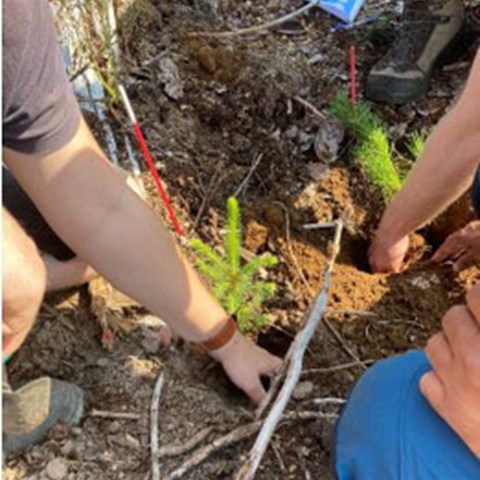 PHD course forest regeneration Course code: PFS0158 • (5.0 credits) • 7 Jun - 15 Aug 2021. The course is available for PHD students within and outside of SLU and from a variety of disciplines.
Would you like to spend a week out in the forest learning about a variety of things that has to do with regeneration, plant physiology and pests, planting techniques and site preparation among other things?


Do you want to create your own field project? Learning how to design and evaluate a regeneration experiment?


Would you like to read at your own pace to get a deeper knowledge in the subject?
Then this might be the course for you!
Content

During the course, the chain from seed to established trees is studied. This include new findings and insight in seedling types, tree species, planting techniques and site preparation methods. In the course, we also focus on plant physiology so that the students will get a deeper understanding of important factors for seedling survival and growth.
The course is a distance course scheduled on the summer semester from the beginning of June to mid-August. The course consists of three major parts:
Study of literature
Field experiments
Field week for three days in Asa and Tagel (Småland) and for two days in Skåne.

In the literature study we will provide students with several articles in five different subjects, closely related to regeneration.
The field experiment will take place already in the first weeks, in which the students will start with their own seedling experiment
Both the literature study and the field experiment are aiming to prepare the students for the final mandatory field week in August. The week include exercises and lecturers (digital or live) from scientists from different universities as well as staff from forest companies.
Assignment

In order to pass the course the assignments in the literature study and the field experiment has to be fulfilled. The field week is mandatory.
The course will be held as a distance course scheduled on the summer semester from the beginning of June to mid-August.
For information and admission for Ph.D. students e-mail the course leader
Kristina Wallertz
(Last date for application: May 15th 2021)
Read more here:
In-depth course in forest regeneration
---
Contact