The Cultural Heritage of Landscape Architecture - Communicating lost time
Last changed: 26 June 2018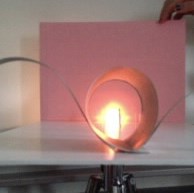 How can layers of heritage be communicated to the public and to guest researchers at Science village in Lund? Perhaps by a walk through time or getting back in time through the elusive Northern light?
This is a one week group work for master students in a mixed group of students from several countries. The project site is outside Lund, it has been inhabited for thousands of years in both domestic and religious ways. Now huge high-tech research facilities of ESS and MAX IV are under construction and will develop the district into a Science Village with facilities for visiting researchers. It will also serve as a forum for interaction with society by getting the public interested in the research and create an awareness of the legacy of the place.
For inspiration, the students had lectures and got written material on the history and the new facilities and got a tour around the area. They were free to work in any way they wanted, the groups were put together through an Open Space process so the students with similar ideas got to work together.
---
Contact
Anna Peterson
Lecturer at the Department of Landscape Architecture, Planning and Management

Telephone: 040-415454
E-mail: anna.peterson@slu.se