The Omicron variant BA.2 was first seen in wastewater from Malmö and Kalmar
Published: 03 February 2022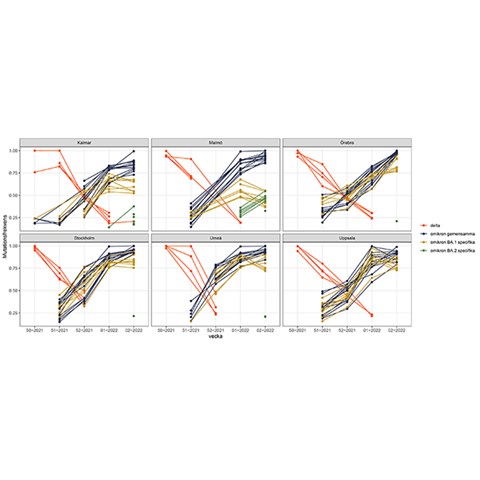 Analyzes of SARS-CoV2 in wastewater from four Swedish cities recently showed that the Omicron variant had completely replaced Delta already in the beginning of January 2022. An in-depth analysis now shows how the Omicron variant BA.2, which dominates in Denmark, spread in Sweden in the first two weeks of 2022. The cities in the new study are Stockholm, Malmö, Uppsala, Örebro, Umeå and Kalmar.
SEEC, the newly established Swedish Environmental Epidemiological Center, collects wastewater samples from wastewater treatment plants in several Swedish cities every week, and analyzes the presence of the SARS-CoV2. In mid-January, SEEC showed that the variant Omikron replaced Delta in the weeks after New Year in Uppsala, Örebro, Umeå and Kalmar.
New detailed study of Omicron BA.2
Now the researchers, from the Swedish University of Agricultural Sciences (SLU) and KTH Royal Institute of Technology, together with SciLifeLab, have made a deeper analysis of sewage samples from week 49 to week 2 from these cities, and also from Stockholm and Malmö. With the method that has now been used, high-throughput sequencing, it is also possible to see the presence of different variants of omicron.
"Then you look at all mutations in the whole virus, and not just 1-3, as with the simpler method we normally use. We thus get much more information", says Maja Malmberg, researcher at SEEC and SLU.
The new analysis shows how the Omicron variant BA.2, which has recently become dominant in Denmark, spread in Sweden during the first weeks of January 2022. The first trace of BA.2 in wastewater came in week 1 in Malmö, but already during week 2 it constituted 50 per cent of all SARS-CoV2 in wastewater in Malmö. Also in Kalmar, BA.2 had become quite common (about 20 per cent) during week 2. In Stockholm, Umeå and Örebro, there were signs of BA.2 in the wastewater from week 2, but still at low levels.
"The results show that BA.2 is rapidly taking over from BA.1 and that in week 2 this is happening predominantly in Malmö, which is not particularly surprising given the high prevalence of BA.2. in Denmark", says Zeynep Cetecioglu Gurol from SEEC and KTH, who is responsible for the analyzes concerning Stockholm and Malmö.
"We will continue with high-throughput sequencing of wastewater samples, as we believe that it is an important complement to sequencing of clinical samples", says Anna Székely, researcher at SEEC and SLU.
The new analysis confirmed that omikron (BA.1) in 3-4 weeks took over the stage completely in almost all locations.
New results from week 4
Regarding the presence of SARS-CoV2 in general in the wastewater, which is analyzed continuously with the simpler method, the researchers see that the levels are very high in the latest analyzes (week 4), in many places the highest they have measured. But it's a mixed picture. An increasing trend is seen in Uppsala, Ekerö, Tierp and Kalmar. It is possible that the levels have stabilized at a high level in Umeå and Örebro and they seem to be declining in Stockholm and Malmö.
The results for levels of SARS-CoV2 in wastewater are published every week on the Swedish COVID-19 data portal. Samples are collected on Mondays and results are published on Fridays or Saturdays the same week. Data regarding variants will be published monthly.
The Swedish Environmental Epidemiology Center (SEEC), is part of the Pandemic Laboratory Preparedness initiative, and the researchers involved are supported also by grants from the SciLifeLab National COVID-19 Research Program, financed by the Knut and Alice Wallenberg Foundation.
Contact persons
Maja Malmberg, docent and researcher
SEEC & SLU, Section of Virology, Dept. of Biomedical Sciences and Veterinary Publich Health
018-67 27 77, maja.malmberg@slu.se
For questions about Stockholm och Malmö:
Zeynep Cetecioglu Gurol, Associate Profesor
SEEC and Industrial Biotechnology, KTH
08-790 82 51, zeynepcg@kth.se
Figures
SARS-CoV2 variants I sewage från six cities in Sweden, from week 50 2021 to week 2 2022. The graphs are showing how Delta (red) decreases/disappears, while Omicron (blue) increases. De two other lines show the Omicron subvariants BA.1 (yellow) and BA.2 (green). Source: Anna Székely
---
Contact