SLU news
LiFT education strengthens PhD students
Published: 29 March 2023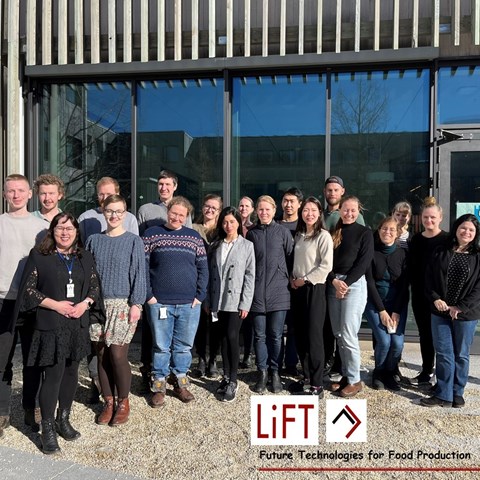 In March 2023, the Swedish University of Agricultural Sciences in Uppsala organized the course "Regulatory and ethical aspects of food production and consumption". Seventeen PhD students with different backgrounds from four universities came to SLU to gain insights into food ethics and legislation.
The course began with a study visit to Lövsta Field Research Station, where Julia Österberg shared with us how they perform research in the areas of animal welfare, behavior and health, as well as sustainable and climate-smart food production. Then, we had several interesting lectures and exercises, where the PhD students had an opportunity to reflect on aspects of food ethics in their own research.
Mathias Johansson, a PhD student from SLU participating in the LiFT (Future Technologies for Food Production) research school course said that "the course was an excellent opportunity to learn more about and discuss legislation and ethical issues that are relevant to everyone who works or going to work in the food industry, something that otherwise easily ends up being somewhat overshadowed during the education. The course also helped to make new valuable contacts with other PhD students in food research".
Chalmers PhD student Thérése Hjorth added that "the LiFT course gave me a broader knowledge about current food legislation as well as animal ethics in the context of food production. The LiFT course also gave me the possibility to discuss my research with fellow PhD students in my field, opening up for future collaborations".
"We are grateful to everyone who was involved in the course – Helena Röcklinsberg, Julia Österberg and Ivar Vågsholm from SLU, Dan Larhammar from Uppsala University, Rikard Hellqvist from Bergström & Hellqvist AB and Arja Helena Kautto from The Swedish Food Agency. LiFT courses facilitate knowledge exchange between Swedish universities and non-academic organizations," said the course leader and LiFT's director of studies from SLU Galia Zamaratskaia.
As a co-event to the course in Uppsala, LiFT PhD students had the opportunity to participate in the Food Science Sweden conference on March 15 and presented their research to a wider audience.
Read more about LiFT: http://foodsciencesweden.se/forskarskola-lift/lift/

---
Contact