Alternative feed resources to marine- and fresh- water fish and giant prawn
Last changed: 01 October 2020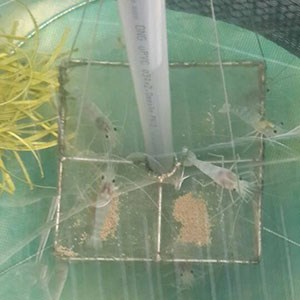 The aim of the project was to evaluate and compare the ability of using distilled brewer's yeast and microbe mixture to replace fish based protein meal in diets to the marine fish, Asian Sea Bass (Lates calcarifer) and to the fresh water fish, red tilapia (Oreochromis sp.) and the giant freshwater shrimp (Macrobrachium rosenbergii).
Research on marine fish is located in the southern part of Cambodia at Marine Aquaculture Research and Development Centre. The PhD project will be performed by Ms. Sen Sorphea.
The project on freshwater fish and shrimp species will be performed at An Giang University, Vietnam. The PhD project will be performed by Ms. Nguyen Huu Yen Nhi.
Aquaculture play an important role in the economy and food security of the nations as well as the world through supplying products, which are commonly rich sources of protein, essential fatty acids, vitamins and minerals. However, the investment cost for aquaculture is high depending on the feed which accounts for 50–70% of the production cost and today most protein source within the fish feed come from fish meal. Therefore it is of highest importance to reduce the use of fishmeal or other protein sources which could be used as human food instead of being included in aquafeed. To find alternative feed for production of aquafeed must be developed if the aquaculture should move forward to a more sustainable and environmental friendly industry producing healthy food.
Thus, an evaluation of single cell protein, the distilled brewer's yeast as a feed material will be carried out to determine its potential application in fish farming. Locally available substrates as broken rice, rice bran, fish waste from the pangasius industry will be used as substrates for culturing yeast.
Doctoral students:
Ms. Sen Sorphea
Ms. Nguyen Huu Yen Nhi
Supervisors:
Anders Kiessling1, Torbjörn Lundh1, Jan Erik Lindberg1 and Matilda Olstorpe2
1 Department of Animal Nutrition and Management
2 Department of Micro biology
Doctoral theses:
Brewer's yeast as a protein source in the diet of tilapia (Oreochromis niloticus) and freshwater prawns (Macrobrachium rosenbergii) reared in a clear water or biofloc environment. Av Nguyen Huu Yen Nhi.
Evaluation on brewery yeast and insect meal (black soldier fly and cricket meal) to replace trash fish in the diet for Asian seabass (Lates calcarifer) in Cambodia. Av Sorphea Sen.
---
Contact
---
Links