Markku Oksanen: Biodiversity crisis and human('s) rights
Last changed: 25 February 2019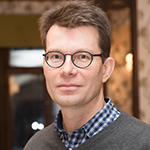 Markku Oksanen, senior lecturer, University of Eastern
Finland, is the author of several scientific articles concerning different aspects of biological diversity, and adjacent topics such as restoration, relocation, and de-extinction.
Among noteworthy papers are for instance 'The Moral Value of Biodiversity' (Ambio, 26, 1997), which was an early discussion on the moral aspects of biodiversity. He has also edited several anthologies on related issues, such as, with Helena Siipi, The Ethics of Animal Recreation and Modification (Palgrave Macmillan, 2014) and, with Juhani Pietarinen, Philosophy and Biodiversity (Cambridge University Press, 2004).
In this seminar Oksanen will discuss the role of human rights and biodiversity deterioration. To what extent can human rights be a part of the problem, or solution, of biodiversity deterioration? The aim is to ultimately defend human rights through defining such rights and specifying their role in ethical and political thinking.
---
Contact