Collaboration
Last changed: 01 August 2023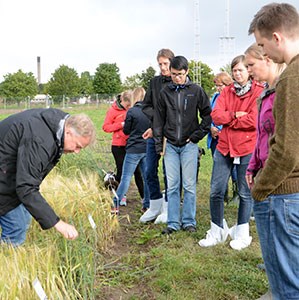 Collaboration and continuous dialogue with stakeholders and the public is the foundation for our research. At the Department we have a field pathologist and a field mycologist. They are in dialogue with the surrounding community, while conducting their own research within their subject areas.
The Department of Forestry Mycology and Plant Pathology interacts with the agricultural and forestry industries, authorities, advisory organizations, etc. to find the most important questions, develop good research and spread the results. We work closely with the agricultural and forestry sectors, extension services, authorities etc. to identify and look for solutions to the most important questions they are facing, to develop research projects and to communicate the results from work we perform. We also deal with questions from schools and the public about beneficial and harmful fungi.
Our field pathologist and field mycologist
Please contact Björn or Rimvys if you have questions or would like to discuss something. They can also guide you to other researchers at the Department who can answer your questions.
Björn Andersson, Field Pathologist
Som fältpatolog ser Björn det som en viktig uppgift att bygga upp ett fungerande gränssnitt mellan forskning och praktik för att underlätta samarbete kring växtsjukdomsproblematik. Läs mer om Björn här.

E-mail: bjorn.le.andersson@slu.se
Telephone: 018-671617
Rimvydas Vasaitis, Field Mycologist
Rimvys (Rimvydas) Vasaitis is a researcher and field mycologist at SLU. He is an expert on forest health and protection, mycology, ecology and silviculture. Rimvys is happy to answer questions and give advice about damages and fungal diseases in forest nurseries and mature forests. He also gives custome made courses in this field. Read more about Rimvys here.

E-mail: rimvys.vasaitis@slu.se
Telephone: 018-671874
Do you have damages on your forest or crops?
Through SLU's service Skogsskada you can try to find out what is damaging your forest. For fungal damages on crops, we recommend that you contact the Swedish Board of Agriculture. You can also take a look at Faktablad växtskydd, a publication series in Swedish from SLU with in depth presentations on damages and pathogens on our pests and patogens on agricultural crops.
---
Contact
Björn Andersson,

Field Pathologist
Department of Forest Mycology and Plant Pathology, SLU
Bjorn.LE.Andersson@slu.se, 018-671617
---
Diagnostics of and information about forest damage