Thesis work at the Department of forest mycology and plant pathology
Last changed: 01 August 2023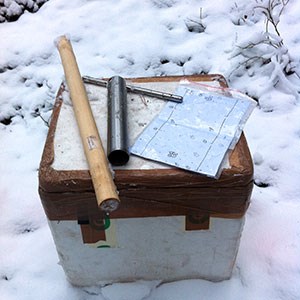 At our Department you can do bachelor's or masters work in applied as well as basic research subjects. We offer degree projects in for example plant pathology, forest pathology, nature conservation, population biology, genomics, soil biology and carbon and nitrogen cycles in the soil.
If you are interested in doing a degree project with us, please contact the director of studies or any of the researchers at the department. Examples of previous bachelors and Master theses at the department can be found in the list in the blue box further down on this page.
Do a master thesis with us!
A Master thesis usually comprises 30 credits (20 weeks full-time studies). You work independently with supervisors from the department and possibly also from companies, authorities or other institutions. Once you have decided on a project and a supervisor, you and your supervisor will draw up your thesis work plan and contact the director of studies at the department who will ensure that you are registered, that you have been appointed examiner and that a work plan is drawn up and written.
The thesis work can be classified in different subjects depending on the program you are taking. We provide degree projects in biology, soil science and forest science. To qualify, a minimum of 30 credits is required at the advanced level in the subject of your degree project.
Master thesis for Forest Science Students
For Forest science students, there is also the opportunity to do a 60 ECTS (40 weeks) Master thesis. These projects are integrated in ongoing research projects at the department and the objective is that the work should be published in a scientific article. If you are interested in postgraduate education, it is a good opportunity to try a bigger challenge and gain an insight into the activities of a research team and the institution!
Previous master theses at the Department
Second cycle, A2E
Comparative analyses of defense gene expression in Norway spruce sapwood. Second cycle, A2E
Do retention trees affect the composition of ectomycorrhizal fungi? : a comparison between clear-cuts areas with and without retention trees in pine forests. Second cycle, A2E.
Examination of mycorrhizal associations of Allanblackia stuhlmannii : a tree under current domestication. Second cycle, A2E.
Functional analysis of polyketide synthases in the biocontrol fungus Clonosthachys rosea. Second cycle, A2E.
Gene expression patterns in Fraxinus excelsior clones with contrasting susceptibility to Hymenoscyphus fraxineus. Second cycle, A2E.
Genotypic and phenotypic variation of Phytopthora infestans on potato in the two Swedish regions Bjäre and Östergötland in 2015. Second cycle, A2E.
Infection preference of Heterobasidion annosum s.s. and H. parviporum on sapwood and heartwood pine and spruce stumps. Second cycle, A2E.
Population genetics and reproductive biology of Thekopsora areolata in Picea abies seed orchards. Second cycle, A2E.
Studies on the microflora associated with the seeds of European ash (Fraxinus excelsior) and the infection biology of the pathogen Hymenoscyphus pseudoalbidus causing ash dieback. Second cycle, A2E.
Taxonomic and phylogenetic study of rust fungi forming aecia on Berberis spp. in Sweden . Second cycle, A2E.
The effect of combining two biological control microbes on seed and root colonization. Second cycle, A2E.
Second cycle, A1E
Gene expression of ABC-transporters in the fungal biocontrol agent Clonostachys rosea in response to anti-fungal metabolites from Pseudomonas chlororaphis . Second cycle, A1E.
Microbial communities in a boreal forest podzol profile and responses to the presence of Pinus sylvestris seedling roots. Second cycle, A1E.
Populationsbiologi av kronrost på havre. Second cycle, A1E.
Populationsstudie av gulrost (Puccinia striiformis) i Skåne under odlingssäsongen 2015. Second cycle, A1E.
Reducerade fungiciddoser vid bekämpning av potatismögel - vilka blir följderna?. Second cycle, A1E.
Reliability of Rotfinder instrument for detecting decay in standing trees. Second cycle, A1E. Uppsala
Svampsamhällen och svampsjukdomar på åkerböna samt svamparnas inverkan på grobarheten. Second cycle, A1E
Svartrost, Puccinia graminis f. sp. avenae, epidemiologi och bekämpningsstrategier i Mälardalen. Second cycle, A1E.
First cycle, G2E
Rotsjukdomar på tomat : växtskyddsåtgärder för bekämpning av Pyrenochaeta lycopersici och Fusarium oxysporum f.sp. radicis-lycopersici på ekologisk tomat. First cycle, G2E.
Seasonal variation in fungal biomass : the effects of soil temperature and moisture in a boreal forest. First cycle, G2E.
We are looking for students for master projects!
Disease resistance in pea towards the root rot pathogen Aphanomyces euteiches
The oomycete pathogen Aphanomyces euteiches causes root rot in various legume species such as in pea (Pisum sativum L.). Aphanomyces root rot is the major constraint for increased pea production in Europe and can cause very high yield losses and affect quality negatively. The last day to apply is 30 April 2022.
We're looking for a motivated, reliable student with a keen interest in plant breeding and phytopathology. Basic knowledge of statistics and R, as well as basic lab experience are a plus.
Read more about the project Disease resistance in pea towards the root rot pathogen Aphanomyces euteiches here.
Do variation in COUMARIN SYNTHASE explain why some ash trees survive attack by the pathogen Hymenoscyphus fraxineus?
The fungal pathogen Hymenoscyphus fraxineus causing Ash dieback (ADB) disease has spread rapidly on the European continent, threatening common ash (Fraxinus excelsior) with extinction. This project aims to study variation in trees with varying levels of tolerance to ADB. The focus of the project is COUMARIN SYNTHASE (COSY). The COSY enzyme is involved in the biosynthesis of coumarins, catalysing the biosynthesis of the defensive compounds fraxetin and esculetin. These compounds are known to help ash trees to tolerate ADB.
Based on available genomic information, we hypothesize that allelic variation in COSY between tolerant and susceptible trees can explain the higher levels of coumarin accumulation in trees with high tolerance to ADB. To test this hypothesis, we plan to i) identify and isolate the COSY genes in ash; ii) compare the sequence variation in trees with known levels of tolerance to ADB and known levels of fraxetin and esculetin iii) express ash COSY in a heterologous system and determine its catalytic properties.
In this project you would work in close interaction with researchers at the Irish Agriculture and Food Development Authority (TEAGASC) and Queen Mary University of London.
For further information, please contact:
Malin Elfstrand
Forest Mycology and Plant Pathology, SLU
Malin.Elfstrand@slu.se, 018-671579
Miguel Nemesio Gorriz
Teagasc Food Research Centre,
miguel.nemesiogorriz@teagasc.ie, +353 (0)18059551 / +353 (0) 873504965
---
Contact
malin.elfstrand@slu.se, 018-671579
---
Links