Landscape Architecture
Published: 25 April 2019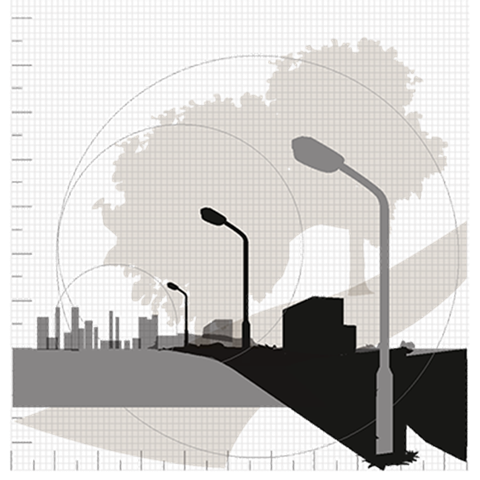 In one of Europe's largest campuses for education in Landscape Design, Landscape Planning and Landscape Management and Construction, this master's programme gives you a possibility to in depth studies in varied areas of Landscape Architecture.
You will get a deeper understanding of the relation between man and the environment and learn how to handle the processes of landscape change in the modern society. The campus of SLU Alnarp is located in the Öresund region close to Malmö and Copenhagen in one of the most vital regions of northern Europe with four universities nearby.
All the courses are delivered in English and the student population is a mixture of Swedish and international students. There is an international approach to assignments and literature at the programme, but you will get to know Scandinavia and the southern region of Sweden through projects and studies.
UN's sustainable development goals in the education
SLU's educations creates knowledge which contributes to the goals for sustainable development, both in Sweden and internationally.
Content
The courses offered in this programme represent a broad range of subjects within the field Landscape Architecture. The education is based on contemporary and international theories in Landscape Architecture, but also on research and knowledge developed at the campus in relation with practise and the profession. You can for example find courses in open space design, in urban and rural landscape planning or in horticultural and dynamic vegetation design. Besides these directions, you can also combine different types of courses to develop your own profile according to your own preferences and interests. The education uses a combination and synthesis of skill training and relevant theoretical input. You will use different computer programmes adapted for planning, design, analysis and presentation in the courses. After one and half years of courses the studies end with a Master's project (thesis) during one semester, where you independently plan and carry out a theoretical and practical project.
Portfolio instructions
Portfolio instructions for applying to Landscape Architecture – master's programme, 2019
A portfolio is a collection of samples from projects, assignments or other work that have been carried out during previous education or previous professional activity. The submitted portfolio should include examples from three (3) projects or assignments that illustrate – using both text and images – the student's ability to design and plan a landscape. The balance between the amount of texts and images depends on the treated subject. The works must be correctly referenced and the role of the student in the project that is being presented must be clearly visible or described. A jury assigned by SLU will consider the portfolio according to following aspects:
The relevance of the treated subject – has the student worked with questions relevant for landscape architecture?
The presented projects should focus on landscape. The landscape can be represented in different scales and can include both urban and rural situations. Examples of landscapes are gardens, parks, cemeteries, squares, streets, residential areas, cities, recreation areas, municipalities, regions and the systems they may be a part of. Treated landscape should be put in a context that explains how it relates to its surroundings. The projects should address issues and questions in landscape architecture that can be linked to the areas and places described.
The level of knowledge – has the student handled the subject in a relevant theoretical framework?
The projects should demonstrate your ability to design, plan and/or manage landscapes. Both visualizations and the text should show how experienced you are in the processes that can be related to these activities. Reflection and theoretical connection are valued.
The skill of the work – has the student presented an ability to handle the project or assignment in words as well as visually, and also shown the ability to independently and satisfactorily use digital tools?
The projects in the portfolio must be presented through texts as well as graphics, plans, sections, and/or other visualizations; all presented materials must have been created by you. The visualizations and layout should be coherent and logical for each project. The content should convey a clear message.
You will be judged on your ability to prepare visualizations, including using digital tools. Your projects must express your abilities to explore, sketch, present and communicate your ideas through several different media such as; pen/pencil/crayon drawing, CAD, Photoshop and InDesign. It's an advantage if you can show abilities in model making, Sketch-Up and GIS. Feel free to use and explore materials like photos of models etc. For all visualizations, please include a description of the techniques and materials (i.e. computer program, cardboard, etc.) that were used.
The portfolio format
Your portfolio must be submitted as a pdf file (please check that your portfolio can be accessed on computers other than your own). The format should be in landscape A3 and comprise a maximum of 16 pages. Submitted portfolios will be printed in order to be assessed, so ensure that your document is formatted correctly.
You must write your name and application number from universityadmissions.se on the portfolio but no more information about yourself is required (no CV).
The portfolio should be submitted via e-mail (as a PDF file, max 60MB) to the e-mail address: PortfolioLAM@slu.se

Write in the e-mail's subject field: Portfolio LAM
To prevent plagiarism, accepted portfolios may be published to SLU's webpage.
Please note that you must also apply to the programme at www.universityadmissions.se.The last day that international students may apply is the 15th of January 2019. The last day that international students may submit their portfolio is the 1st of February 2019.
We wish you good luck!
Student life
Welcome to #greenstudies where you get glimpses of student life as a master student at SLU!
Future
This education programme will give you a strong platform and the accurate tools for a forthcoming professional career within the field. Depending on your own country's policy on professional certification, as well as the subject of your bachelor's degree, you may be able to work as an urban planner, landscape designer or landscape manager, or in another profession that is based on knowledge about contemporary society and landscape development, sometimes in competition with professions such as landscape architects or architects.
Qualification Awarded
Degree of Master (120 credits) of Science with a major in Landscape Architecture.
Facts
Programme scope: 2 years, 120 credits
Next start: Alnarp, 2 sep 2019
Number of admission places: 25
Application period 16 Oct 2018 - 15 jan 2019: All international students
Application period 15 March 2019-15 April 2019: Swedish students and students within EU/EEA
Tuition fee for non-EU/EEA/Switzerland citizens:
First instalment: 67 500 SEK
Total programme: 270 000 SEK
All applications are made through the Swedish online application service at universityadmissions.se. Find out how to apply and more about the application and admissions process (on our website).
---
Contact
Study and career guidance
Ask us about: courses or programmes, which education that suits you and how to reach your future goals, your study environment and career after graduating.
Do you have questions about the university or our programmes? Maybe you can find your answers here. FAQ: Frequently asked questions about studies
Telephone
+46 (0)18 67 28 00
Telephone hours
Monday 10-12
Tuesday 10-12
Thursday 13-15


Page editor: rekrytering@slu.se