Long-awaited book about the birds of the forest
Published: 26 March 2018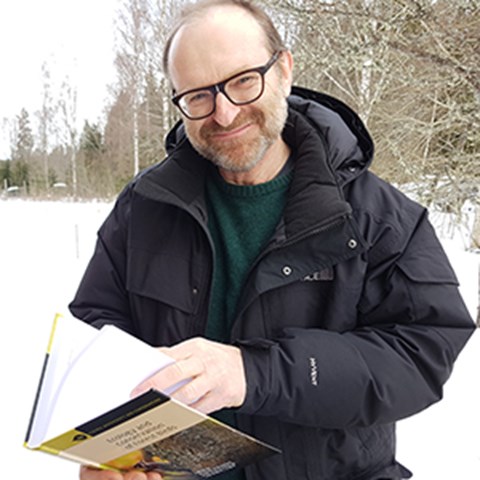 About 10 years ago Grzegorz Mikusiński's students at the School of Forest Management asked him if he could recommend a good book about birds in the forest. Now he can finally answer 'yes' to that question. Ecology and Conservation of Forest Birds is a unique review of northern hemisphere forest birds with emphasis on Europe - how they are adapted to living in the forest and how they are affected by changes in the habitat. Grzegorz has edited the book together with Jean-Michel Roberge and Rob Fuller.
There are many reasons to write a book about forest birds.
• Nearly 80 percent of the world's birds are linked to forests because they encompass so many different types of habitats and ecological niches.
• Many forest bird species are in decline, especially those dependent on dead wood, old forests and forests with complex vegetation structures.
• Much knowledge is available about how to improve the prospects for forest birds.
• Birds can work as indicators – by monitoring birds we can obtain information about the state of our forests.
And last but not least - people like birds!
"I remember when I was ten years old and saw my first black woodpecker beside a fallen dead tree in southern Poland. It was amazing. It can be far more difficult to watch birds in the forest than in many habitats, but I think that the effort involved is so rewarding", says Grzegorz Mikusiński.
The last major review of forest bird ecology was published in 1991. Since then, the amount of knowledge has multiplied. Another sign that it was time for a new book is that almost all the bird experts Grzegorz contacted agreed to contribute to the book.
The book begins with a historical overview of how the bird species community in our forest has developed. An interesting difference between Europe and North America is that we have fewer species that migrate to the tropics in the winter. This means that strategies for conservation of birds in North America need to pay more attention to overwintering sites. The reader also gets an insight into special adaptations of forest birds, including a major review of tree-hole breeding birds.
The book also addresses the threats that the birds in the forest face. Climate change will affect the habitat of birds more and more, for example through fires, insect attacks and storms. Another theme is how we can combine forestry with a rich birdlife.
The editors have been aiming for a book that anyone interested in ecology and forest birds can use and enjoy. Grzegorz, of course, hopes that many SLU students will read it, now that there is a book on the subject that he can recommend. Other important target groups are researchers, staff at county administrative boards and on the Forestry Agency, forestry ecologists and birdwatchers.
A nice detail in the book is the vignette pictures of various birds by the skilled cartoonist Sabita Gurung from Nepal. Grzegorz met her when he organized a course for students in this bird-rich country.
More about the book
Information from the publisher:
http://www.cambridge.org/9781107420724
Grzegorz Mikusiński´s blog about the book March 21 2018
http://www.cambridgeblog.org/2018/03/ecology-and-conservation-of-forest-birds/
Contact
Grzegorz Mikusiński, researcher at the Department of Ecology and teacher at the school of Forest Management vid SLU SLU.
0581-69 73 29, 070-775 71 61, grzegorz.mikusinski@slu.se
The other editors
Jean-Michel Roberge, adjunct lecturer at the department of the Wildlife, Fish and Environmental Studies at SLU and Conservation expert at the Swedish Forest Agency
Robert Fuller, former Director of Science at the British Trust for Ornithology
Press pictures
(Only in connection with this press release. Please acknowledge the photographer .)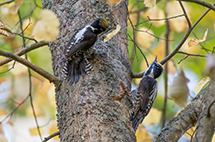 Three-toed woodpecker (Picoides tridactylus). Photo: Adam Wajrak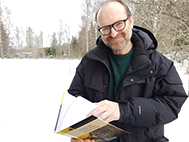 Grzegorz Mikusiński with the new bird book. Photo: Anna Lundmark, SLU
---
Contact