SLU news
Field day at Rånna: Organic blueberry and raspberry cultivation
Published: 12 September 2012
Rånna Experimental Station (managed by SLU) organized together with the Swedish Board of Agriculture on August 28 a field day where ongoing trials were presented to growers and advisers. The trials at Rånna focus on berry production.
The executive director Birgitta Svensson showed experiments with organic gardening blueberries, known as American blueberries, and raspberries. Three different kinds of garden blueberries (the varieties Duke, Reka and North Blue) samples were grown in two different substrates (peat mixed with bark and peat and bark mixed with forest soil) in both plastic tunnel and in the open air. The preliminary results from this research project indicate varietal differences, but choice of substrate was of minor importance for the yield. The plants developed faster in plastic tunnels, but this did not affect yields significantly. The trial on garden blueberries will continue until 2013.

Variety trials is going on also with winter and summer raspberries and there is also an evaluation of organic plant protection methods for raspberries grown in tunnels. Tunnel cultivated raspberries often get problems with the dryberry mite (summer raspberries) and aphids (summer and autumn raspberries). To reduce these problems, various physically acting products are tested in a research project that will run until 2014.

The field walk ended with an appreciated tasting of different kinds of blueberries, raspberries and blackberries.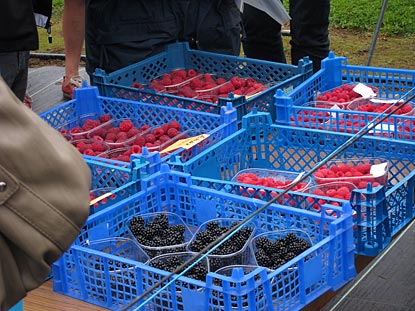 Different varieties of raspberries and blackberries. Photo: Ulf Nilsson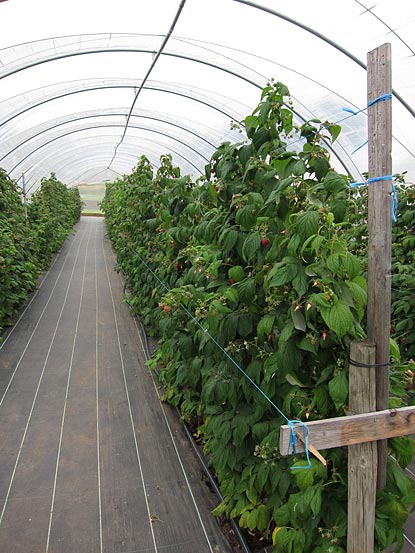 Tunnel cultivation of raspberries. Photo: Ulf Nilsson
Facts:
---
Contact