Visualising the Future - a webinar series
Last changed: 04 September 2023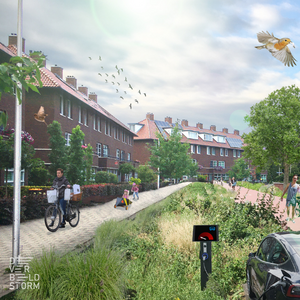 SLU's Futures Lab 2.0 invites researchers, teachers and students to take part in a series of presentations and dialogues on our futures. Exploring the use and value of futures studies, fostering the awareness of various futures and supporting the development of new research questions, identification of knowledge gaps, and transdisciplinary work!
The webinar series is targeted at researchers but open to anyone to join.
Past webinars
9 November 2022: Visualising the Future – with Dagmar Haase (Humbolt Universität, Berlin) and Ludwig Bengtsson Sonesson (Future Walks, Lund University). Futures Lab webinar and discussion on Zoom. In English. Arranged by SLU Future Food and SLU Urban Futures.
21 September 2022: Visualising the Future – with Garry Peterson (Stockholm Resilience Centre) and Susanna Barrineau (SLU). In his presentation Nature Futures, Garry Peterson discussed different ways people can use futures thinking to improve thinking around people and nature. Susanna Barrineau, the University of the Sunshine Coast and SLU, discussed how we can move into futures in open ways that allow for the multiple pathways needed to approach wicked contexts in her presentation Expanding the possibilities of the present with futures thinking.
The recorded webinar, the presentations (as pdf-files), shared links and more from the webinar can be found here.
4 May 2022: Visualising the future – adapting to a changing climate.
How can climate projections be used to show uncertainties and robust signals in future climates and how can municipalities work proactively with future scenarios to mitigate climate-related risks such as urban flooding? With guest speakers professor Erik Kjellström from SMHI and Helena Björn from Lomma municipality.
23 March 2022: Futuring - concepts, practices, pedagogies
SLU Urban Futures and SLU Future Food kicked off the Futures Lab 2.0 and the new seminar series focused on future studies with a talk by Peter Pelzer, Assistant Professor in Spatial Planning and Urban Futures at Utrecht University, Netherlands.
Learn more about the presentation given by Peter Pelzer here: Imagination & Future Studies- Approaches for visioning the future we want to live in
---
Contact