Management of unused grasslands for biodiversity and bio-energy – network and field experiments
Last changed: 25 October 2023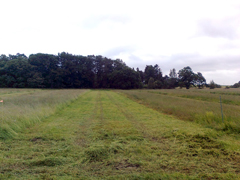 Semi-natural grasslands such as pastures and meadows are valuable biodiversity hotspots that require management through grazing or biomass harvesting. The low-input management of pastures and meadows are steadily decreasing in modern agriculture. This project aims at promoting knowledge exchange between scientists, farmers, authorities, industry, and the wider public, about potential synergies between biodiversity conservation and biomass production from sown species-rich grasslands on unused agricultural land. Network activities such as seminars, field excursions, field demonstrations and study visits are complemented by field experiments on farmers' land and at SLU, evaluating the biomass production in sown grassland mixtures of varied species richness. The project activities stimulate discussions among different actors about sustainable biomass production in synergy with several environmental objectives: enhanced biodiversity, reduced eutrophication, reduced climate impact and varied agricultural landscapes.
Publications:
Carlsson et al. 2017. Perennial species mixtures for multifunctional production of biomass on marginal land. GCB Bioenergy 9: 191-201. DOI: 10.1111/gcbb.12373
Carlsson m.fl. 2015. Artrika vallar ger hållbar energiråvara och gynnar den biologiska mångfalden. Sveriges lantbruksuniversitet. LTV-fakultetens faktablad; 2015:20. Fulltext
Carlsson G, Svensson S-E, Emanuelsson U. Alternativa skötselmetoder för ängs- och betesmarker och användning av skördat växtmaterial. SLU, Fakulteten för landskapsarkitektur, trädgårds- och växtproduktionsvetenskap, Rapport 2014:11.
Prade T, Svensson S-E, Kreuger E, Mattsson JE, Carlsson G, Englund J-E 2014 Vall som biogassubstrat. Landskapsarkitektur trädgård växtproduktionsvetenskap, rapport 2014:8.
Facts:
Project leader: Georg Carlsson
Collaborators: Sven-Erik Svensson, Jan Erik Mattsson, Thomas Prade
Funding: Region Skånes Miljövårdsfond/Partnerskap Alnarp
---
Contact