Chemical Ecology - Agriculture
Last changed: 11 November 2021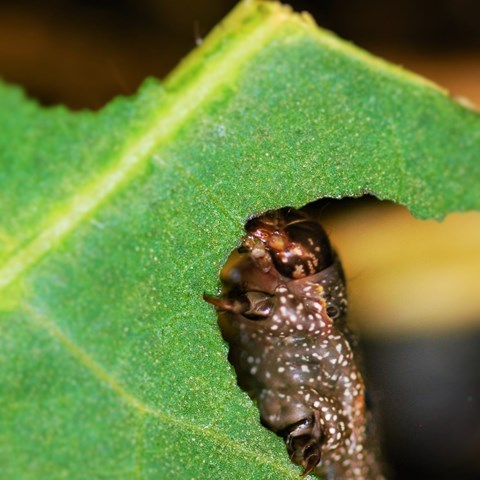 Chemically mediated interactions between plants and insects are central in many habitats, both natural ones and those influenced by human activities. The aim of our research is to establish sustainable control methods for pest insects of socioeconomically important crops.
The group mainly studies multitrophic ecological interactions between plants and herbivorous insects, where chemical signals are essential. We combine and integrate ecological, evolutionary, physiological and applied assays with in-depth expertise in chemical analysis to identify behaviourally and physiologically active olfactory signals and to gain a comprehensive understanding of how they influence our study systems.
The research includes different aspects of ecology that affect both host plant and mate choice in insects. Important research is also done on preserving insect biodiversity, and on monitoring and controlling pests. Our aim is to produce novel and interesting scientific advancements, as well as applicable knowledge that responds to societal needs and sustainable development.
Current projects
Host plant selection in moths

Pest management in oilseed rape

Interactions between insects and oilseed rape – dynamic consequences in the wake of the Brassica pod midge as a novel emerging pest

The Brassica pod midge Dasineura brassicae, in combination with its facilitator, the seed pod weevil Ceutorrhynchus assimilis, has recently emerged as a serious pest of oilseed rape in Sweden. This study aims to develop novel IPM strategies and to find efficient attractants to monitor D. brassicae. We will also characterize environmental and landscape factors which cause population buildup and spread of the two pests. Finally, the project will investigate how the new ecological situation and management strategies affect populations of other pest insects, natural enemies and pollinators of the oilseed rape system.
Researchers on the project:
Spatiotemporal dynamics of insect pests and pathogens in agroecological systems – using spatial planning to prevent population buildup and crop damage
Crop distribution in the landscape most likely constitutes an important factor for outbreaks of e. g. insect pests and pathogens. The project will link pest population dynamics to the sequential distribution patterns of crops in the landscape at different spatial scales. The aim is to improve risk predictions and decision systems and allow forward planning of crop rotation systems to avoid population buildup of pest organisms. Furthermore, to develop a user-friendly application to predict landscape-wide distributions of pests and to make predictions about how to optimize crop distribution to minimize the effects of pests.
Researchers on the project:
PheroBio at SLU

PheroBio at SLU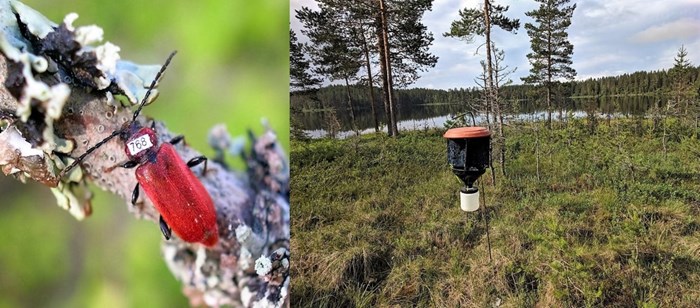 We are currently facing major environmental challenges where rapid landscape and climate changes are putting species and whole ecosystems at the risk of extinction. Some of the most sensitive organisms are the insects, who often are among the first affected by disturbances in an ecosystem. In the PheroBio project at SLU we utilize pheromones (sexual attractant chemicals) and other semiochemicals for large-scale trapping and monitoring of threatened insects with the goal of obtaining new insights into their ecology and conservation requirements. We work with an expanding portfolio of rare insects from both agricultural and forest habitats such as burnet moths, click beetles and longhorn beetles. Our research is focused on two main objectives:
- Identify sex pheromones and aggregation-sex pheromones of rare insects and develop methods for systematic and efficient monitoring of biodiversity.
- Utilize pheromone-based trapping for large-scale studies focusing on the relationship between resource availability and insect spatio-temporal population dynamics.
Researchers on the project:
Current:
Mattias Larsson (Associate professor)
Collaborators:
Dr. Erik Hedenström (Professor, Mid-Sweden University)
Dr. Jocelyn Millar (Professor, University of California, Riverside, USA)
Dr. Nils Ryrholm, Gävle University College (Professor, University of Gävle)
Dr. Lars Westerberg (Associate professor, Linköping University)
PheroBio at Lund University
Alumni:
Dr. Mikael Molander (PhD student)
Dr. Inis Winde (Post-doc)
Dr. Joe Burman (Post-doc)
Dr. Franklin Nyabuga (Post-doc)
Selected publications:
Thesis:
---
Contact
---
Links