Beneficial fungi can protect coffee plantations against serious plant disease
Published: 17 April 2023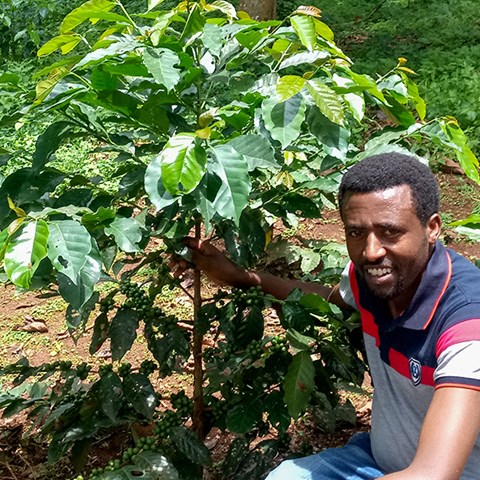 Coffee wilt disease cause great harvest losses in Ethiopia. Now, researchers from SLU and Ethiopia have developed, formulated and evaluated a range of biofungicides against the disease in the lab, in greenhouses and in field conditions. The biofungicides are now recommended for the management of coffee wilt disease.
For the past three years, SLU researchers and Ethiopian colleagues have been working in Ethiopia on a project to sustainably control coffee wilt disease. Coffee wilt disease is caused by the fungus Fusarium xylarioide and cause a 30–40% decline in coffee yield. The disease is a big challenge, not least for smallholder, as coffee is their most important cash crop. Among the challenges is that there are neither resistant coffee varieties nor effective chemical pesticides.
– We often want to get our coffee sourced from sustainable cultivation in Sweden. We wanted to find sustainable solutions sourced locally to grow coffee away from chemical disease control measure and to help small farmers, says SLU-researcher Ramesh Vetekuri, leader of the research studies.
Species of the fungal genus Trichoderma are already widely used to prevent plant pathogens and boost plant immunity in greenhouse and field conditions. Trichoderma species are naturally present in soils at Ethiopian coffee plantations, but the biocontrol potential has not yet been exploited.
The researchers isolated Trichoderma species from coffee growing regions, studied their biodiversity, and screened them in the lab for biocontrol potential against the coffee wilt disease pathogen.
– The best isolates were taken from the lab studies to greenhouse trails for three years. We also conducted three years of field trials in three different regions with two of the best isolates and different formulations, says Afrasa Mulatu, PhD student from Addis Ababa University.
In the field study, the isolates with highest biocontrol potential were found to lower the spread of coffee wilt in the regions Gera, Teppi and Jimma with 67.7%, 71.4%, and 80.5% respectively. Prior to the field study, the antifungal compounds were tested and found to not to be toxic to humans.
– To the best of our knowledge, this is the first report of a biological solution that can effectively manage coffee wilt disease that has been taken from the laboratory into the field. We hope that our formulations soon will be widely used to combat coffee wilt disease in Ethiopia, says Ramesh Vetekuri.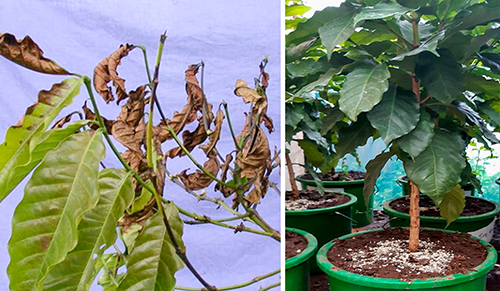 Coffee wilt is caused by the fungus Fusarium xylarioide and causes a yield reduction of 30–40 percent in Ethiopia. Treatment with a formulation based on the beneficial fungus Trichoderma gives a good effect against the disease. Photo: Afrasa Mulatu
---
Contact
---
The scientific publications in this study
Mulatu A, Megersa N, Teferi D, Alemu T, Vetukuri RR (2023) Biological management of coffee wilt disease (Fusarium xylarioides) using antagonistic Trichoderma isolates. Front. Plant Sci. 14:1113949. https://doi.org/10.3389/fpls.2023.1113949
Mulatu, A., Megersa, N., Abena, T., Kanagarajan, S., Liu, Q., Alemu, T. T., et al. (2022). Biodiversity of the genus Trichoderma in the rhizosphere of coffee (Coffea arabica) plants in Ethiopia and their potential use in biocontrol of coffee wilt disease. Crops 2, 120–141. https://doi.org/10.3390/crops2020010
Mulatu, A., Megersa, N., Tolcha, T., Alemu, T., Vetukuri, R. R. (2022). Antifungal compounds, GC-MS analysis and toxicity assessment of methanolic extracts of Trichoderma species in an animal model. PloS One 17, e0274062. https://doi.org/10.1371/journal.pone.0274062
Mulatu, A., Alemu, T., Megersa, N., Vetukuri, R. R. (2021). Optimization of culture conditions and production of bio-fungicides from Trichoderma species under solid-state fermentation using mathematical modeling. Microorganisms 9, 1675–1700. https://doi.org/10.3390/microorganisms9081675