About SLU Centre for Biological Control, CBC
Last changed: 20 December 2022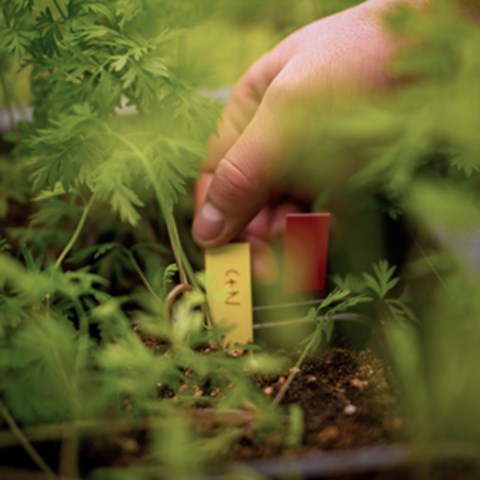 Trial with carrot plants inoculated with bacteria and nematodes . Photo: Cajsa Lithell.
SLU runs SLU Centre for Biological Control (CBC), with a grant from the Swedish government. CBC conducts its own research and collaborate with other researchers in sustainable control strategies. A close cooperation with stakeholders, such as growers, industry, authorities and organisations is an important part of our activities. The centre is virtual with researchers located at different SLU departments in Uppsala and Alnarp.
Examples of our activites:
Research on biological control in collaboration with national and international universities and research institutes
Organizing national and international conferences on plant protection and biological control
Participation in expert panels such as proposals for new national regulations, the EU Comission to define criteria for low risk plant protection products and members EFSA (European Food Safety Authority) working groups.
Financing of pilot projects on biological control within SLU
A seminar serier on biological control with invited speakers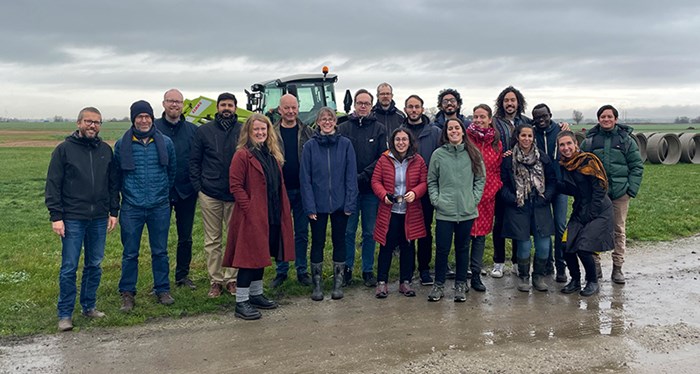 CBC's seminar series
Past seminars that CBC has arranged in the seminar series on biological control
Beneficial fungi for the control of mycotoxigenic pathogens on cereals: the case of Trichoderma gamsii vs Fusarium head blight on wheat
2022-06-02
Professor Sabrina Sarrocco, University of Pisa, Italy
Biodiversity and ecosystem services (and disservices!) on organic farms
2021-11-01
Dr. Carmen Blubaugh, University of Georgia, USA
Läs mer om seminariet här.
Reaping the benefits of microorganisms in cropping systems: Is the regulatory policy adequate?
2021-05-11
Professor Ingvar Sundh, Department of Molecular Sciences and SLU Centre for biological control
Read more about the seminar here.
Sensing and regulation of mycotrophic and biotrophic processes in fungal mycoparasites
2021-03-25
Dr. Lea Atanasova, University of Natural Resources and Life Sciences (BOKU)
Read more about the seminar here.
Cyclic lipopeptides produced by Pseudomonas spp.: an untapped reservoir to control plant diseases by direct antagonism and induced resistance
2019-12-05
Professor Monica Höfte, Ghent University
The use of drones in pest control
2019-10-02
Annie Enkegaard, Aarhus University
Symposium on Plant Resistance Ecology
2019-05-16
A half-day seminar on plant resistance Ecology in Alnarp.
See the full program here.
Developing and deploying biological control and bio-pesticide solutions to fight biotic stresses to agriculture in Sub-Saharan Africa
2019-04-24
Georg Goergen, IITA Benin
Half-day seminar on biological control in Alnarp
2018-10-04
CBC presented its new operations group with a half-day seminar on biological control. CBC researchers presented their ongoing and future research
Read more about the seminar here.

Half day seminar on biological control in crop protection: present challenges and future prospects
2018-05-23
CBC held a symposium in honor of Dr Margareta Hökeberg who retired after a long and successful career as an internationally recognized expert in the use of bacteria in biological control.
Read more about the seminar here.
Investigating landscape configuration effects on natural enemies, pests, pollinators and their functions: pathways for ecosystem service prediction
Dr. Emily Poppenborg Martin from the University of Würzburgs, Germany.
2018-02-08
Plant biotic interactions in maize agroecosystems
Dr. John Larsen, National Autonomous University of Mexico.
2017-12-18
See the whole seminar on CBC's Facebook page.
The role of secondary endosymbionts on the persistence and control of populations of Sitobion avenae at the field level
Blas Lavandero, Instituto de Ciencias Biologicas, Universidad de Talca, Chile
2017-09-19
Non-target effects and the efficacy of host plant resistance against potato leafhopper, Empoasca fabae
Dr. Cory Straub, Ursinus College, USA
2017-06-21
Understanding mycoparasitism in the biocontrol agent Pythium oligandrum: Towards IPM in potato
Dr. Laura Grenville-Briggs, Department of Plant Protection Biology, SLU
2017-04-20
Natural habitats improve yields: how landscape complexity can increase yield through arthropod-mediated ecosystem services
Dr. Katja Poveda, Cornell University, USA
2016-09-11
Cirsium arvense - economic impact and potential biological control of a European plant in New Zealand
Dr. Graeme Bourdot, AgResearch, New Zeeland
2016-06-14
Quantifying the Value of Urban Vacant Land for Conservation and Ecosystem Services
Dr. Mary Gardiner, Ohio State University, USA
2016-04-07
Crops for tomorrow: opportunities and challenges with microbial application
Dr. Marc Ongena, Liège Universitet, Belgium
2015-06-02
Bacillus thuringiensis – the most successful microbial pest control agent. Ecology and potential risks associated to its use
Dr. Niels Bohse Hendriksen, Aarhus University, Denmark
2015-05-07
Harmonizing biodiversity conservation and agricultural production across tropical countryside
Dr. Daniel Karp, University of California, USA
2014-11-13
Environment-friendly Disinfection Method for Rice Seed Using Steam Condensation Heat
Dr. Takahiro Noda, National Agriculture and Food Research Organization (NARO), Saitama, Japan
2014-09-15
Spatial and trophic interactions of arthropod generalist predators in conservation biological control
Dr. Klaus Birkhofer, Lund university
2014-02-26
Biocontrol of plant pest, disease and weeds at the Bio-Protection Research Centre in New Zealand
Professor Travis Glare, Director of the Bioprotection Research Centre, Lincoln University, New Zeeland
2013-10-31
Identification of resource bottlenecks in agro-ecosystems and quantifying their impact on biological pest control
Dr. Mark Ramsden, University of Lancaster, UK
2013-09-27
Microbial Products beyond the lab, technology transfer to industry
David Wright, AgReasearch, Lincoln, New Zealand.
2013-06-11
The role of applied sciences in sustainable farm intensification in Africa: push-pull technology as an example
Dr. Charles Midega, ICIPE – African Insect Science for Food and Health
2013-05-02
Facts:
Highlights of CBC's activities can be seen here.
---
Contact
---
Read more about CBC