Nature Interpretation - a definition
Last changed: 29 November 2017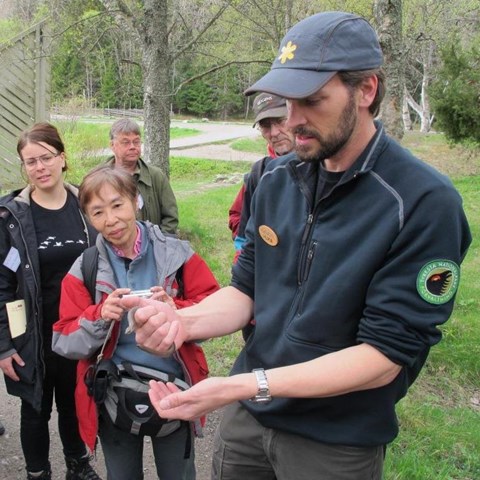 The aim of nature interpretation ("naturvägledning" in Swedish) is to help visitors develop a personal relationship with nature and the cultural landscape. In English, the term heritage interpretation is more commonly used.
According to a definition by the Nordic Council of Ministers (1990), nature interpretation is to mediate knowledge about and evoke feelings for nature and the cultural landscape. A more modern way to look at nature or heritage interpretation, is that the interpreter should help participants develop personal relationship to nature and the cultural landscape.
The goals of heritage interpretation include elements of learning and positive experiences in nature, as well as stimulating the participants' own reflections. Heritage interpretation has a message, which to some extent always aims towards affecting the participant's attitudes and/or behaviours. Heritage interpretation is more about communication than information. By heritage, we mean both natural and cultural elements in the landscape.
---
Contact
Swedish Centre for Nature Interpretation (SCNI)
Department of Urban and Rural Development, Swedish University of Agricultural Sciences (SLU)
scni@slu.se
www.scni.se

Page editor: cnv@slu.se