Can oyster mushrooms (Pleurotus ostreatus) lower the level of anti-nutritional substances in field beans?
Last changed: 01 March 2023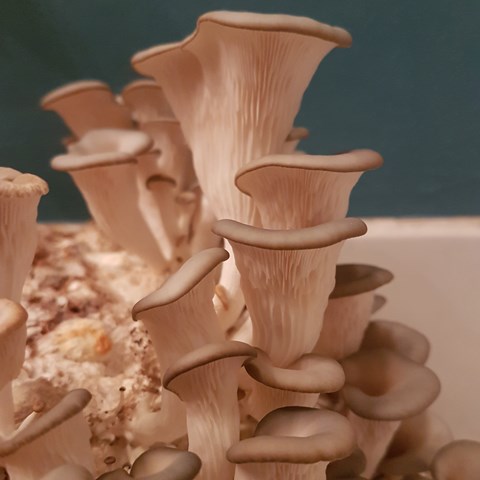 There is a need to identify new feed resources and there is a lack of sustainably produced protein. Field bean (Vicia faba) is a legume with high protein quality, which is cultivated in Sweden. The cultivation of field bean contributes to sustainable agricultural production through nitrogen fixation. When the field bean is being developed as a food ingredient, the husk can be left over as a waste product.
In parallel, there is a growing interest in edible mushrooms. From an environmental perspective, mushroom production is of interest as its circular considering the use of a mushroom substrate composed of lignocellulosic wastes. Field bean husk has been tested as substrate for the production of the oyster mushroom oyster in experiments preceeding this project. Field bean husk was well suited for production of oyster mushroom and a high yield of fruiting bodies was obtained.
After the mushroom harvest, the substrate is partly degraded due to fungal metabolism. Previous research have demonstrated lower levels of antinutritional factors, such as tannins and vicine/convicine, after cultivation of oyster mushrooms. This implies that the feed potential has improved, however, few studies have been performed in this area. Therefore, this project aims to evaluate spent mushroom substrate composed of husk of field bean from a feed perspective including the antinutritional factors.
Facts:
Project period: 2020-2021
Funding: Lundströms stiftelse
Preject leader: Malin Hultberg
---
Contact
Malin Hultberg, Senior Lecturer and External Collaboration Specialist
Department of Biosystems and Technology, SLU
malin.hultberg@slu.se, +46 40-41 53 25, +46 73-023 15 74