Alternative growth control by restricted phosphorus application
Last changed: 30 June 2020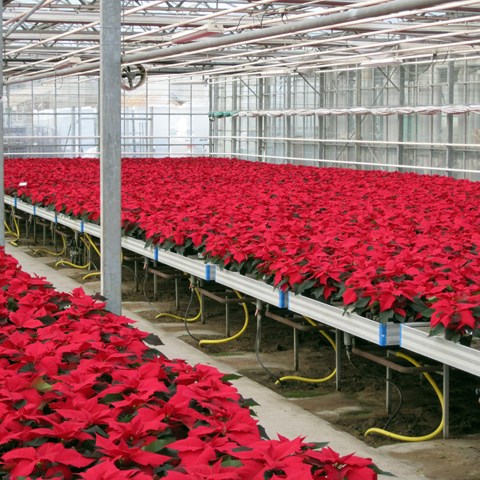 During the last decennia, chemical plant growth regulators (PGRs) have been used for greenhouse production of pot- and bedding plants. By inhibiting plant elongation, the PGRs are leading to more compact plants. However, the use of PGRs has been questioned due to environmental and health concerns. Accordingly, the number of PGRs registered for use in Sweden has been reduced during later years. As PGRs that are not available for Swedish growers are still in use in other countries, a competitive disadvantage for the Swedish producers has been the result. On the other hand, a complete elimination of the use of PGRs could be a competitive advantage.
The aim of the project is to strengthen the competitive ability of the Swedish pot plant producers by developing methods for alternative growth control leading to an increased supply of plants produced nationally and in an environmentally acceptable way. The project will contribute to the development of effective and sustainable production systems and long term solutions for environmentally friendly production. Existing knowledge on the possibilities of utilizing restricted phosphorus application as an alternative retardation method in pot plant production will be compiled as a part of the project. We will also include a pilot study with restricted phosphorus fertilization for selected pot plant species. The project is conducted in cooperation with Bara Minerals.
Funding: Partnership Horticulture
Contact: Karl-Johan.Bergstrand@slu.se, Siri.Caspersen@slu.se
---
Contact
---
Publiced
Caspersen S., Bergstrand K.-J. 2020 Phosphorus restriction influences P efficiency and ornamental quality of poinsettia and chrysanthemum. Scientia Horticulturae 267, https://doi.org/10.1016/j.scienta.2020.109316
Bergstrand K-J, Caspersen S, Syrén B 2017 Tillväxtreduktion med hjälp av reducerad fosforgiva – en framkomlig väg för prydnadsväxter i växthus? LTV-fakta 2017:13.
Caspersen S, Bergstrand K-J 2017 Fosforrestriktion som retarderingsmetod för krukväxter? LTV-fakta 2017:14.