Evaluation of Yellow Lucerne as a forage crop for Northern Sweden
Last changed: 06 April 2023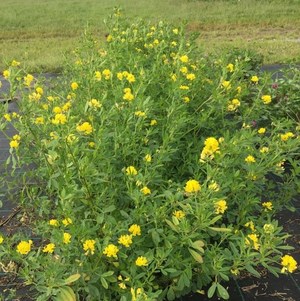 Lucerne is a forage that is widely cultivated in Europe, including in Sweden; however, there are many locations in Sweden where the climate or soil conditions are not suitable. Yellow lucerne is not currently cultivated, but has potential to be a future forage crop for Northern Sweden. Yellow lucerne has rhizomes, a low crown, is tolerant of grazing, has a fibrous root system (less of a tap-root than blue lucerne), is tolerant of acid and wet soils, disease resistant, longer lived and more winter hardy than lucerne.
Project outline
The pilot phase of the project was funded by KSLA (Kungl. Skogs- och Lantbruksakademien), and further funding has been granted by RJN (Regional jordbruksforskning för norra Sverige). Eleven cultivars of lucerne, yellow lucerne, and yellow-blue hybrid lucerne, and one red clover cultivar were established at four locations in Northern Sweden in 2020. The cultivars will be assessed over three production years (2021-2023) for yield, winter survival, and forage quality. Ultimately the project aim is to provide forage legume alternatives that are more persistent and tolerant of climatic stress, and improve biodiversity in leys.
International Collaboration
In addition to the experiments in Sweden, similar experiments have been established in Finland (LUKE), Norway (NIBIO) and Iceland (Agricultural University of Iceland).

---
Contact
David Parsons, Professor


Department of Crop Production Ecology, Crop production science