Short rotation forestry (SRF)
Last changed: 02 December 2019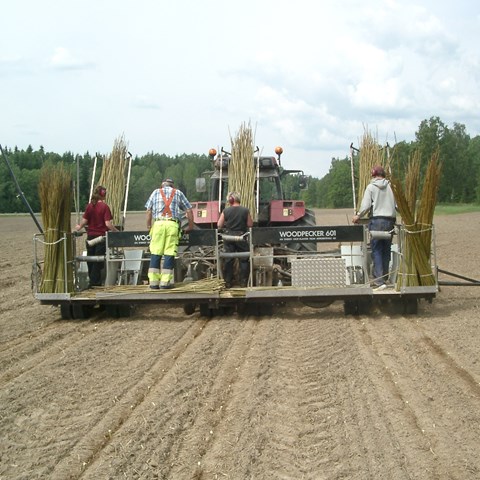 Fast-growing deciduous tree species can be used to replace fossil fuels and to diminish human impact on the climate. Our research contributes to a more efficient and environmentally sustainable cultivation of tree plantations for bio-energy purposes. One of our research applications is the possibility to use fast-growing woody species as a vegetation filter which turns waste products into a valuable resource. Many of our results can be applied directly by growers and extension workers.
SLU has been performing research on fast-growing deciduous tree species during decades and many of our results have been implemented in commercial practice. Our current research mainly targets species within the genera Salix, Populus, Betula and Alnus.

Swedish plantations of fast-growing willow species are often called 'energy forests' and their main market is wood chips for bio-energy purposes. Larger assortments of poplar may also be used in the paper and pulp industry.
Vegetation filter
We also exploit the use of fast-growing deciduous trees to clean sewage water and as vegetation filter to take up heavy metals and other pollutants in sewage sludge and ash (phyto-remediation). To use sewage water and sludge in energy forests is an efficient way to recycle phosphorus and nitrogen and to turn societies' waste into useful biomass and heat/power.
Interaction between crops and weeds
Another of our research areas deals with interactions between crops and weeds. In this subject area we have an extensive cooperation with the research group Plant Ecology & Weed Biology. Weed control is necessary also in short rotation forest plantations - during establishment - and is of vital importance for biomass production later on.
Biodiversity
Fast-growing woody plantations may also enhance biodiversity of the agricultural landscape. In for example a willow plantation, more – and also different – species of insects, plants and birds can be found compared with the adjacent conventional agricultural fields. Biodiversity also is a research subject to us.
Several other research groups at SLU also have a focus on fast-growing deciduous tree species, for example tree improvement with molecular methods, interactions between (harmful and beneficial) insects and cultivated tree species, and interactions between fungi and trees.
Staff
---
Contact
Theo Verwijst, professor Short Rotation Forestry
Institutionen för Växtproduktionsekologi, SLU
theo.verwijst@slu.se +46 (0)18-67 25 50
---
More information