Education Day
Last changed: 04 February 2021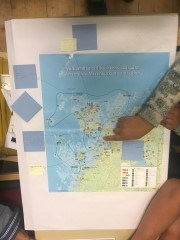 18th September 2018 an education day was held in Vasa in Finland about heritage interpretation and why we would use a method for thematic interpretation for planning of heritage interpretation in the World Heritage. On this page we describe how we worked with the day.
To the education day we invited selected persons that worked with the Lystra project or worked in some of the financing organizations. See invitation here.
At the education The Swedish Centre for Nature Interpretation (CNV) stood for the main content while the Country Administrative Board of Västernorrland and Metsähallitus invited and held in the practical details. We were two persons from CNV, two from the County Administrative Board and on from Metsähallitus.
The education was held in a centrally located building in Vasa in Finland. 13 people participated on the education day, in addition to the organizers.
In the morning we started with presentations about who the participants were, about the Lystra project and about CNV's impressions of the World Heritage. After that a presentation was held about heritage interpretation. Then a suggested theme for the World Heritage was presented and that was followed-up by group discussions on the suggested theme.
A last discussion before lunch had the focused on how one in the project could cooperate about communication with local actors.
The afternoon started with a presentation about planning of heritage interpretation. We then showed results from visitor surveys in the World Heritage. Group discussions followed about today's and tomorrow's visitors in the World Heritage as well as what the target groups demand in relation to the theme of the World Heritage. A last group discussion focused on places, values and visitors.
Here you can see the complete program for the education day.
Here is the presentation material for the education day.
The participants were asked to fill in an evaluation sheet at the end of the day. Results showed that:
What was mostly appreciated was the discussions, to be able to equivalent information about the project, to meet other actors and to hear their thoughts.
What was less appreciated was time for discussions and group discussions and that the education day could have lasted longer.
The participants experienced the day as very useful for their activities and everybody's expectations were fulfilled.
The participants gave in average 4.35 of maximum 5 in an overall grade for the day.
We that worked with the education day concluded after the day that we were pleased, but that time for discussions could have been increased. We could have decreased the time to present the project. It came in useful feedback on the suggested theme.
See a Facebook-post from the education day here.
Shortly after the education day the workshops were held in October.

---
Contact
Swedish Centre for Nature Interpretation (SCNI)
Department of Urban and Rural Development, Swedish University of Agricultural Sciences (SLU)
scni@slu.se
www.scni.se