Courses and course concepts
Last changed: 23 March 2021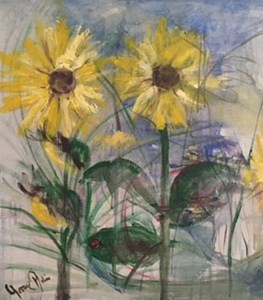 Our work with competence development for professionals includes developing all or parts of courses and course concepts that can then be used in other contexts and/or implemented by other educational actors mainly outside SLU. In our development work we use SLU's research and development areas in order for us to be able to offer competence development based on current research.
Recruitment training for foreign-born agronomists/hortoculturalists
In 2020, SLU carried out two distance courses for agronomists and horticulturalists with a degree from their home country on behalf of the Swedish Public Employment Service. It was a complementary training for those with landscape, plant or horticulture orientations. The Unit for Collaboration and Development, Competence Development for Professionals, developed the training material within the field of horticulture in distance learning, "Recruitment training for newly arrived agronomists/horticulturalists". In total, 28 participants were involved and the training programme ran between May and August 2020. The training material within the horticultural field is based on the LTV faculty's fact sheets and reports produced within for example the SLU Partnership Alnarp and Tillväxt Trädgård.
Green Entrepreneur - rural cultural environments - research shows the way
Within the project "Green Entrepreneur - rural cultural environments - research shows the way", there are some 40 films for those interested in rural development. The films are available on YouTube and show lectures by researchers and teachers from SLU (Swedish University of Agricultural Sciences) as well as rural entrepreneurs who share their experience.
SLU Alnarp Mentor
In 2016, we implemented a training programme in cooperation with the Swedish Public Employment Service. It was aimed at newly arrived academics and the aim was to increase the participants' knowledge of Swedish horticultural research and the industry. The training program served as an introduction to work, the program was called SLU Alnarp Mentor.
How research and experience can increase the employability of newcomers
The experience of the training programme SLU Alnarp Mentor has been compiled to inspire educational actors into creating new training courses that can contribute to greater integration. The experience and the training model is presented here.
Odla Mera - a knowledge compilation
Odla Mera - Frukt & Grönt, is a knowledge compilation for advisors, growers or professionals in the green industries. There are over 300 searchable reports, fact sheets, theses and dissertations from horticultural research at SLU since 2002.
Training modules
In addition to Odla Mera - Frukt & Grönt, there are training modules, roughly twenty of them, in the areas of fruit and berries, open field cultivation of vegetables, ornamental plants and more, which are based on horticultural research at SLU. For more information, please contact Susanna Lundqvist.
Courses in nature and health
Over a period of approximately ten years, we offered rural entrepreneurs a chance to take part in courses in nature and health. The courses were also focused on entrepreneurship and they had the overall theme "Green Entrepreneur". The courses were aimed at rural entrepreneurs who wanted to develop their activities in the field of the importance of nature for human health. The courses were successful and roughly ten courses and some seminars were conducted, a total of approximately 300 rural entrepreneurs participated.
---
Contact
Susanna Lundqvist, Project Leader
The Unit for Collaboration and Developement
susanna.lundqvist@slu.se. 040-41 51 75