Theme 2 research portrait - "We started with the questions, and now we have the methods to answer them"
Last changed: 03 July 2023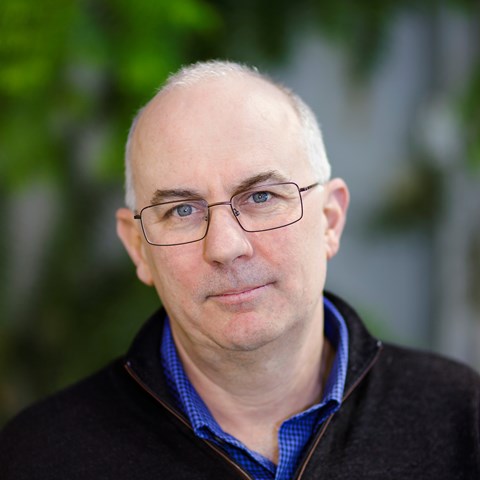 Why are trees growing so much better after nitrogen fertilization, despite the fact that they have only had access to less than a tenth of the applied N? And how cooperative is the interplay between soil microbes and trees on different sites? Professor Vaughan Hurry hopes that the resources added by TC4F will contribute to a deeper understanding.
The cycles of nitrogen and carbon from soil to tree are dependent on the unique collaboration between fungi and tree roots. The textbook usually describes mycorrhiza as a mutual dependence – a symbiosis. The fungi help the trees to take up water and nutrients. In return, they are offered carbon compounds from the tree. But in reality it is not that simple, and not always a fair exchange.
The fungi retain a large part of the nitrogen itself on poor soils. The microorganisms may therefore be of less help to tree growth on such sites than previously thought. This new knowledge is one of the results of the research performed at SLU and Umeå University. The role of the microorganisms in the N and C dynamics is one of several matters treated in TC4F's Theme 2 "The impact of climate and nitrogen on carbon dynamics in forests".
Strengthening the established nitrogen research
The research theme started 2011 and will continue in its current form until 2014. TC4F will strengthen the already established competence at Umeå University and SLU. Researchers at Umeå Plant Science Centre attracted much attention when they first were able to demonstrate that trees absorb nitrogen in organic forms, such as amino acids. The research has continued to develop knowledge of nitrogen dynamics in boreal ecosystems, and has also contributed to organic nitrogen now being commercially produced.
Theme 1 started with Professor Torgny Näsholm as theme leader. When he left Umeå for a guest position in Australia, the baton was handed over to Professor Vaughan Hurry. Vaughan Hurry cannot stress enough the importance of TC4F. It has helped to build a strong team around the research questions.
– A research grant is usually only covering one scientist. Now we have been able to strengthen both research, laboratory and field experiment resources, he says. We can simply conduct larger experiments.
Successful method development
The root measurement in Flakaliden (see Theme description) is one example of studies that had not been possible without TC4F. Through Theme 2 it has also been possible to develop methods useful not only in the theme, but for several others as well. One example is the new method to measure nutrient fluxes with the aid of microdialysis. Another is the rational method developed at Berzelii Centre for Biotechnology to sequence the DNA and RNA of microorganisms.
Professor Hurry says he was "pleasantly surprised" by how well these methods have worked with complex field samples.
– When Theme 2 started, we had the questions. Now we have the methods, and soon also the answers, he says.
About Vaughan Hurry
Professor Vaughan Hurry started off with a forestry degree from the Australian National University in Canberra, and continued with post-graduate work at the University of Sydney and then the University of Western Ontario in Canada, and then post doctoral research in Sweden, Australia and Germany. He finally settled in Umeå, where for the last 15 years he has been one of the leading plant physiologist at Umeå Plant Science Centre. He also belongs to the Berzelii Centre for Biotechnology.
/ Text Mats Hannerz
---
Contact
---
Links