Theme 4 Research project - "We need to develop multipurpose crops"
Last changed: 17 January 2022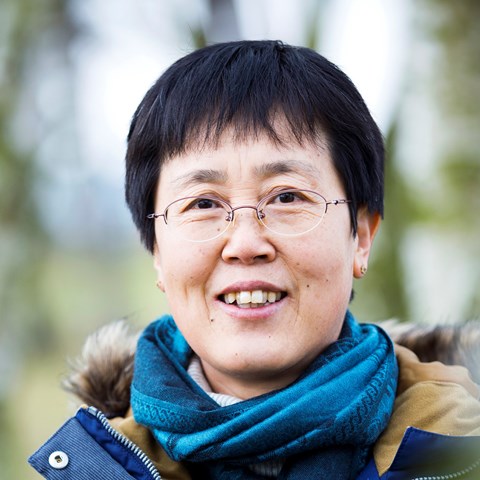 Li-Hua Zhu, leader of Theme 4, has a clear standpoint: "To establish a biobased society we need to increase the production of biomass without increasing the cultivation area and simultaneously we need to use the biomass in an effective way."
The aims of the research in Theme 4 are to develop new oil crops and to produce raw material for every-day commodities like packaging materials and plastics. At the same time, the researchers strive to use the full biomass of plants and find methods for smart cultivation with the aim of reducing nutrient leakage from modern agriculture. There are several possibilities, for example:
Starch from cereals or potatoes can be used for many applications outside the food industry, like barriers in packaging materials, for example.
Proteins in waste from oil crops and potatoes can be converted into plastics.
Oil crops like crambe (Crambe abyssinica) and field cress (Lepidium campestre) hold great assets of renewable oil, and field cress can also be cultivated as a catch crop for cereals. Developing these new oil crops may bring better econmy for cultivation and reduced nutrient leakage in the future.
These are research areas spreading into many branches, which makes them fit very well in an extensive environment like TC4F.
– By collaborating internationally and interdisciplinary we learn from different disciplines and gain better access to the best techniques and facilities, says Li-Hua Zhu.
– Altogether this enables us to make great achievements.
Renewable plant oil of promising standards
Production of wax esters from oil crops
The findings about production of wax esters from Crambe and field cress are some of the important results from Theme 4 so far. Using genetic engineering, the reserchers have inserted three genes, which have been isolated from jojoba, into the crambe genome. This means that crambe can become an effective producer of long carbon chain wax esters, which can stand high temperature.
– This is a very interesting result, explains Li-Hua Zhu.
– These wax esters can form the base of totally renewable lubricating oils, a giant product on the world market. Wax esters from crambe have better properties than its petroleum based competitors, like for example better resistance to heat.
– These wax esters also have very good potentials for cosmetic production.
Reduced production costs
Another interesting result regarding crambe is the production of a stable, transgenetic line holding an erucic acid content of 73 percent – to be compared with 60 percent in the wild version of the plant. Erucic acid is an important raw material with many applications within the chemical industry, especially in plastic production. By increasing the quantity of erucic acid, the downstream purification costs can be reduced.
– At every ten percent of erucic acid added to the seed oil, the cost of purification of erucic acid can be halved, explains Li-Hua Zhu.
New oil crop with a great potential
Field cress is a biennial, wild oil plant, hardy to winter an holding a high potential regarding yield of seeds. It can be used as a catch crop and be cultivated together with for example barley. Barley comes up during the first year, while field cress is being harvested during the second year. Altogether this means less ploughing and less leakage of nutrients.
By using bio technology it is possible to speed up the domestication process of field cress. Within Theme 4 the researchers have developed an efficient transformation protocol for field cress, which enables genetic modification of the species. So far the researchers have found many transgenic lines with improved properties regarding oil composition and pod shatter.
– By using genetic engineering, we can directly modify a specific gene, or several genes, which control a given trait, while maintaining the rest of the plant genome unchanged, explains Li-Hua Zhu.
Oil from vegetative tissues
Some other examples of interesting oil research from Theme 4 are the possibilities to produce oil from plant leaves and vegetative parts, such as oil from trees. This is still research at its very beginning, but it appears promising and would enable a maximum use of plant biomass in the future.
Biobased materials
Biobased rest materials from protein or starch, for example oilseed cakes of oil seeds (waste from oil extraction) from crambe or rape or waste from starch production from potatoes, are also important topics within Theme 4. These are plant materials which can be coverted into renewable plastics or packaging materials. The researchers study how protein structures are linked to functionality of materials and have established models correlating protein structure and function and have also developed new methods to detect protein structures.
Other research
The researchers within Theme 4 have also found out that it is possible to extract oil from potatoes and to produce insect pheromones in plants by using biotechnological approaches.
Further on, some of the basic research within Theme 4 brings a better understanding of the molecular mechanisms behind plant lipid biosynthesis, genetic control of oil production in trees and bud dormancy. The researchers have identified or characterised some important candidat genes which are involved in these processes.
– The possibilities are really unlimited and it is very important that this research programme is enabled to continue so we can spend more time on research instead of applying for new money, says Li-Hua Zhu.
About Li-Hua Zhu
Li-Hua Zhu is a professor of plant breeding, trending to biotechnology. During the past 15 years her research deals mainly with biotechnology applications within plant breeding. Her research comprises improvements of plant properties like adventitious root formation, flowering, plant height control, oil qualities and oil quantities.
During several years of field studies, Li-Hua Zhu has observed how genetically modified rootstocks from trees of apples and pears can affect non-GM cultivars regarding growth and fruit quality. Of the rootstocks tested, GM pear rootstocks are of particular interest as they can be potential dwarfstocks with clearly improved adventitious rooting for commercial production in the future.
During the recent years, Li-Hua Zhu has been focussing on improving new oil crops (crambe and field cress), aiming at increasing oil content and changing oil qualities and oil quantities. The research about crambe is part of the EU project ICON, while the research about field cress refers to the Mistra-Biotech programme CP1 (Component Project 1) where she is the CP leader.
/ Text Ingrid Bressler
---
Contact