Dog
Last changed: 28 August 2019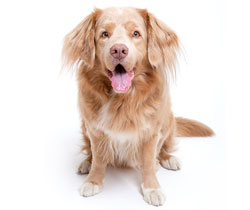 The animal genetics laboratory collaborates closely to the Swedish kennel club, SKK, concerning different routine analysis performed on dogs; specific DNA tests, parentage controls and identity controls.
We also do colour test on dogs.
From September 1 2019, the Animal Genetics Laboratory will start using payment in advance for all genetic tests and paternity control.
Payment should be made prior to any service rendered and (goods) delivered.
Please make bank transfer to the following bank account. Note that a payment reference (670 Dog) is mandatory. Please state the name of the dog.
Name of account holder: Sveriges Lantbruksuniversitet
Account number (IBAN): SE92 1200 0000 0128 1011 9104
BIC/Swift: DABASESX
Bank address: Norrmalmstorg 1, 111 46 Stockholm, Sweden
For questions, please contact hgenlab@slu.se
Parentage testing
Parentage testing
Investigations not handled by the Swedish Kennel Club
2875 SEK (incl VAT) per litter
Inherited diseases
Canine-STGD1 (ABCA4)
CLAD
Retinal dystrofi (night blindness)
Copper toxicity
Juvenile cataract
Sensory Ataxic Neuropathy (SAN)
GR_PRA1&2
Imerslund Gräsbäck syndrom (IGS)
Supplementation with GR_PRA2
Only available for dogs previously tested for GR_PRA1 at SLU
Shar-Pei autoinflammatory disease (SPAID)
For information about sampling for research, please visit hunddna.slu.se
Coat colour
In dogs there are two common types of melanin; eumelanin (black) and pheomelanin (red or yellow). In Labrador and Flat-Coated Retriever dogs red is bleached to yellow. We can perform tests for gene variants of these colors.
Download form for ordering of coat color tests
Yellow/red analysis
Combined yellow/red and brown
Melanistic mask
Combined melanistic mask and yellow/red/brown test
How to read the results
Yellow
Offspring can become:
Genotype of the dog

Black
Yellow/red
E/E
X
E/e
X
X
e/e
X
X
Combined Yellow/Brown
Offspring can become:
Genotype of the dog
Black
Yellow/red
Brown
E/E B/B
X
E/E B/b
X
X
E/E b/b
X
X
E/e B/B
X
X
E/e B/b
X
X
X
E/e b/b
X
X
X
e/e B/B
X
X
e/e B/b
X
X
X
e/e b/b
X
X
X
Melanistic mask
(dominant trait)
| | |
| --- | --- |
| Em/Em | Dog with black mask, can only get offspring with black mask. |
| Em/- | Dog with black mask, can get offspring with black mask. |
| -/- | Dog without black mask. |
---
Contact
Tomas Bergström, researcher
Department of animal breeding and genetics, SLU
tomas.bergstrom@slu.se, +46(0)18-67 19 97