You can find us here
Last changed: 12 March 2020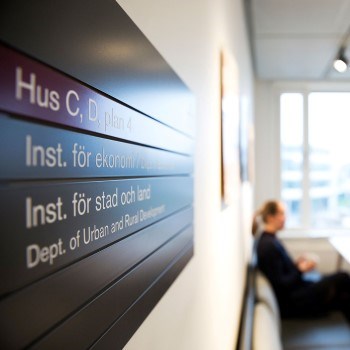 Here you will find information on how to find us and how to get to Campus Ultuna, Uppsala.
Visiting address Uppsala:
Ulls hus, Ulls väg 27 756 51 Uppsala
---
Visiting address Lund:
AgriFood Economics Centre Scheelevägen 15 D 223 63 Lund
---
How to get to Ultuna
By car from Stockholm:
Drive E4 to Uppsala. When you are close to Uppsala, the motorway exit is to the right, with signs "Uppsala S". Continue to the roundabout and turn right at the third roundabout exit. Follow the signs to "Ultuna" (you will pass a bridge over the Fyris river). At the traffic light after the bridge, turn left. After about one kilometer, turn right at the sign "Djursjukhus". You are now at the Ultuna campus site.
By bus or train from Arlanda Airport:
Bus 801 and local trains go from the airport to the city centre of Uppsala. For information regarding time schedules, call +46-(0)771 14 14 14.
Local buses:
City buses 1,12, 20 and 21 to the Ultuna campus depart from the central station in the city centre. The stops at Ultuna campus are Veterinärvägen, Campus Ultuna and Ultuna Södra. Some bus lines go to Arrheniusplan. Regional buses 101 and 804 also go to Ultuna.
---
Contact