Lifeplan Röbäcksdalen
Last changed: 14 September 2023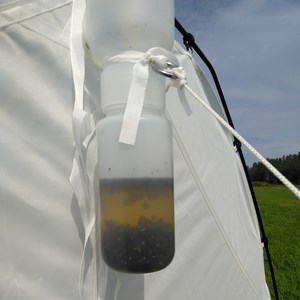 SITES Röbäcksdalen is one of several SITES stations which participates in Lifeplan, the large global monitoring program for biodiversity. The collection in onging during 2021-2025.
Röbäcksdalen - a part of the world
Lifeplan is a global monitoring project measuring biodiveristy on earth. Research stations all around the world are participating, but special focus is put on Sweden and Madagaskar.
Our measurements in Lifeplan
Lifeplan uses five different methods to collect biodiversity data; sounds, images, soil samples, flying insects, and spores. At Röbäcksdalen two of these methods are used, a cyclone trap for spores and a malaise trap for flying insects. The equipment is placed on one of the dairy farm's fields and is following the standard crop rotation consisting of leys and barley.
Facts:
---
Contact
Malin Barrlund, Research Technician
Department of Crop Production Science, SLU
malin.barrlund@slu.se, +46(0)76-833 77 67