Urban Vegetation
Last changed: 24 August 2022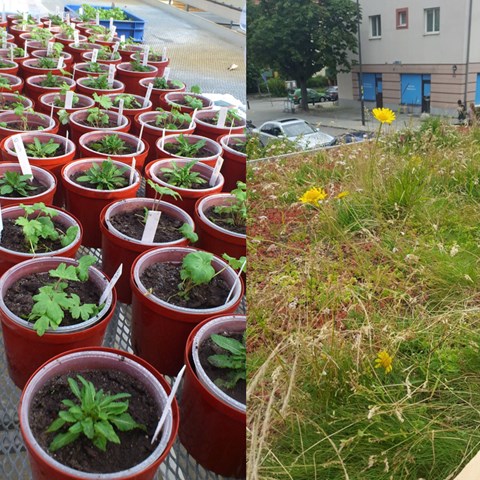 The Urban Vegetation group carries out teaching and research at the exciting interface between engineering, design and biology. Our aim is to contribute to sustainable cities through vegetation strategies. We develop new methods and concepts for the design, construction and maintenance of attractive and sustainable vegetation systems, supporting climate change mitigation and the delivery of multiple ecosystem functions and services.
Research
Our research is often carried out in collaboration with stakeholders and end-users like municipalities and small and medium-sized enterprises. It takes many forms, from innovation and applied research to strategic research, as well as basic research with a strong scientific base in landscape architecture, horticulture, plant ecology, plant-soil interactions and plant physiology. Our group delivers a large part of the department's teaching with courses deeply rooted in practice and research.
Research projects within Urban Vegetation
Read more about our activities
Our activities follow three main strands:
The first focuses on development of prototypes and concepts for sustainable vegetation systems with high visual and functional qualities, for example through dynamic design and management approaches that incorporate the temporal dimension. We develop such knowledge through complex biotope design, conceptual formulation and testing of integrated design concepts. The Alnarp landscape laboratory plays an important role in research about processes related to understanding urban and periurban woodlands, and also serves as a vital asset for practice based teaching.
The second strand focuses on the functional effects and regulating ecosystem services provided by urban vegetation, for example by studying functional performance of street trees, integration of vegetation with technical infrastructure and buildings such as in green roofs, green walls and street trees. The key concept in this research revolves around plant selection and development of guidelines for site adapted plant use.
The third strand, carried out by the Programme for diversity of cultivated plants (POM), aims to improve the co-ordination and management of cultivated plants. Organised within the POM theme group, this programme was initiated 1998 by the Ministry of Agriculture in consultation with authorities, organisations, the private sector and non-profit organisations active on the issues. The Department of Landscape Architecture, Planning and Management (LAPM) at SLU has overseen and co-ordinated POM's various activities since 2014. Read more about POM.
Education
The Vegetation Group's educational commitment includes courses at all levels of SLU and, in particular, in the training programmes for Landscape Architecture, Garden Engineering and Landscape Engineering. Currently the Group is responsible for seventeen different courses ranging from the introductory course Meeting Landscape for the Bachelor's level to Advanced Planting Design at Master's level. In addition, the group has various assignments in other courses on these programmes as well as a large number of hand-leading and graduated functions at Bachelor and Master's level. The Vegetation Group's teaching efforts are always based on current research in the subject area and the approach is characterized by the focus of pedagogy. In all teaching there is also an emphasis on sustainable development.

Theme group members:
Theme Group Leader Åsa Ode Sang:Ecosystem services, Multidisciplinary approach, Nature-based solutions, Environmental aesthetics
Subject leader Åsa Ode Sang: Ecosystem services, Multidisciplinary approach, Nature-based solutions, Environmental aesthetics
Edu coordinator Stefan Sundblad: Planting design, Landscape design, Naturalistic planting design, Landscape construction, Design by management
Frida Andreasson: Carbon cycling, Ecosystem ecology, Green infrastructure, Plant-soil interaction, Urban soils
Patrick Bellan: Urban biodiversity, Plant selection, Vegetation management
Ishi Buffam: Carbon cycling, Ecosystem services, Green infrastructure, Vegetated roofs, Climate change adaptation
Tobias Emilsson: Climate change adaptation, Ecosystem services, Green infrastructure, Nature-based solutions, Plant-soil interactions, Tree physiology, Urban soils, Vegetated roofs
Anders Folkesson: Landscape design, Landscape construction, Biotope design, Planting design
Ann-Mari Fransson: Biochar, Ecosystem services, Nature-based solutions, Plant-soil interactions, Urban biodiversity
Eva-Lou Gustafsson: Plant-soil interaction, Urban soils, Sustainable greening
Karin Ingemansson: Landscape design, Vegetation management, Multidisciplinary approach
Anna Levinsson
Linnea Oskarsson: Outdoor laboratory, Plant selection, POM The Program for Diversity of Cultivated Plants
Cecilia Palmér: Urban biodiversity, Vegetation management, Multidisciplinary approach
Helena Persson: Ecosystem ecology, Urban biodiversity, POM The Program for Diversity of Cultivated Plants
Henrik Sjöman
Karin Svensson: Garden design, Planting design, Naturalistic planting design
Petra Thorpert: Landscape design, Multidisciplinary approach, Outdoor laboratories, Planting design, Urban biodiversity
Magdalena Wiedermann: Vegetation ecology, global change, biodiversity
Björn Wiström: Landscape laboratories, Urban forestry, Design by management, Naturalistic planting design, Vegetation management
Ronja Zellmer: Ecosystem ecology
---
Contact
Åsa Ode Sang, Professor at the Department of Landscape Architecture, Planning and Management
Phone: 040-41 54 38
E-mail: asa.sang@slu.se