WP 2 – Cost-effective and sustainable harvest methods
Last changed: 25 November 2021
In order to utilize the full potential of logging key actors need both knowledge and know-how about how to realize this in the real world, a two-folded matter that this work package addresses.

This project is two folded. On one hand the aim is to increase the capacity of forest agencies and forest owners' organization to raise the awareness among politicians, forest owners and other relevant stakeholders of the potentials and possibilities to increase the use of forest biomass in energy production. On the other hand the project strives to improve the training capacity of forest agencies, organizations of forest owners and entrepreneurs, forest advisory organizations to provide capacity in the area of forest biomass supply in general, and the extraction of logging residues and small tree in particular. By increasing these abilities the gap between research and technological innovation can be reduced in the field of forest bioenergy and practice. This can also achieve better balance between provision of ecosystem services and biomass production.
Baltic ForBio WP2 Working Group Met in Estonia – Tallinn and Pärnu 11.-12.2.2020
Interreg Baltic Sea Region Program Baltic ForBio Project members discussed on the energy wood potential issues during two days including forest site visit to Pärnu County and Fortum Pärnu CHP energy plant. The aim of the days was to make a final version of the Handbook for the stakeholders , prepare supporting training material and demonstration sites. Materials will contain aspects to forest bioenergy production including technological, economic and environmental issues in the different phases of the forest growth.
The expert group consisted of 15 people from seven different organizations in Estonia, Finland, Germany, Latvia, Lithuania and Sweden. They represented forest agencies, education and training organizations, forest research institutes, private forest owners and energy plants.
The project contains five different parts where the outputs are energy wood production handbook, training material, demonstration sites, calculation tool (WP3), Forest Energy Atlas mapping application (WP4) and appropriate business modelling for energy wood production and use. They are available by the end of September 2020 and will be published in English, Estonian, German Latvian and Lithuanian languages.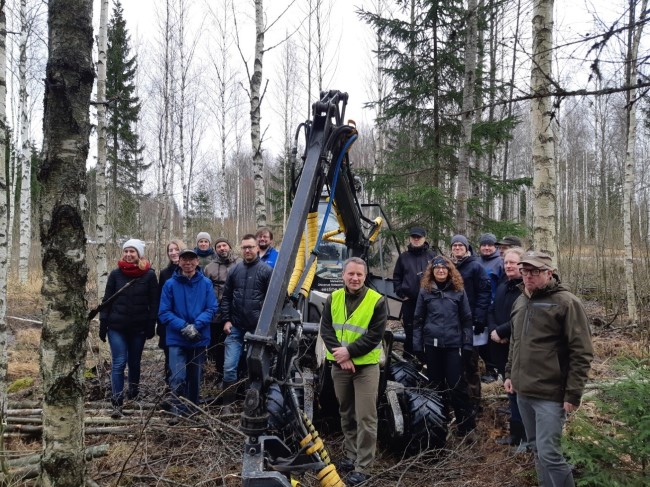 Project report 22.04.2020
New project report from Regional Council of Central Finland and University of Jyväskylä: Decreasing harvesting pressure increases the multifunctionality and biodiversity values of forest landscape – Cost-effective enhancement of forest multifunctionality can also be achieved via landscape level planning
Facts:
---
Contact