Bilateral cooperation with Rwanda
Last changed: 29 October 2019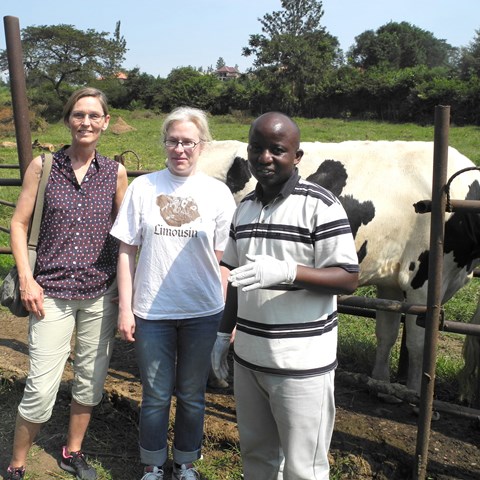 In July 2013 SLU and the National University of Rwanda, which since then has merged into the University of Rwanda (UR), started collaborating within Sida's Research Partnership Training Programme, the UR-Sweden programme.
The main objective of the Agriculture sub-programme is to increase the critical mass of specialists equipped with the technical and leadership skills needed to effectively contribute to the transformation and modernization of the Rwandan agricultural sector.
This will be achieved by:
Increasing the number of MSc programmes in agricultural sciences at the UR.
Developing PhD curricula and increasing the number of staff with a doctoral degree by eight PhD students admitted at SLU in a sandwich mode.
Increasing the level of core research, supervision skills, and research management competencies.
Increasing the level and extent of multi-disciplinary research activities and projects, both within the University and in collaboration with other partners.
Doctoral projects within the programme
1. Integration of Agricultural Commodity Market in EAC country members: Measuring Price Linkages and policy Implementation.
SLU, Economics, (Yves.surry@slu.se)
2. A comparative study of Ralstonia solanacearum and Xanthomonascampestris pv. Musacearum in the potato and banana bacterial wilt pathosystems of Rwanda.
SLU, Forest Mycology and Plant Pathology (Jonathan.Yuen@slu.se)
3. Effect of repeated drought on yield and quality of Riceza (Oriza sativa) under constracting temperature.
SLU, Plant Breeding, (Eva.Johansson@slu.se)
4. Biomass production, animal palatability and digestibility of Alnus acumunata, Gliricidia sepium and Leucaena pallida and effect on manure fertilizer quality and soil fertility improvement of the Oxisols in southern Rwanda.
SLU, Soil and environment. (Sigrun.Dahlin@slu.se)
5. Comparison of the performance traits between indigenous cattle and its crossbreds in Rwanda.
SLU, Animal Breeding and Genetics (Erling.strandberg@slu.se)
6. Mastitis in dairy cows in Rwanda: characterization, prevalence, etiology , molecular epidemiology and effects on milk quality.
SLU, Clinical Sciences (Renee.Bage@slu.se)
7. Impact of irrigation regime and controlled drainage on nitrogen/salt dynamics and rice yield in Muvumba irrigated soils, Rwanda.
SLU, Soil and environment, (ingrid.wesstrom@slu.se)
8. Sustainable fish farming in Rwanda: Evaluation of local feed ingredients for Nile tilapia (Oreochromis niloticus) production.
SLU, Animal Nutrition and Management, (Torbjorn.Lundh@slu.se)
Coordinators for the programme at SLU
Ewa Wredle (Ewa.Wredle@slu.se)
Anna Norman Haldén (anna.norman-halden@slu.se)
---
Contact
Ewa Wredle, Senior Lecturer at the Department of Animal Nutrition and Management; Nutrition and Management, Ruminants
Theme leader at SLU Global for the theme Restoration for degraded rural landscapes
ewa.wredle@slu.se, 018-672699, 070-3235232
---

Page editor: MALIN.PLANTING@SLU.SE