In fall of 2018, we added six stations to the Krycklan water quality monitoring network in a side-by-side comparison of these three different management options with the goal of determining their effects on water quality and quantity. We call this area "Trollberget" and it began with the EU LIFE program's GRIP on LIFE Integrated Project that includes demonstration areas for the restoration of an unproductive drained peatland and best practices for cleaning of forest ditches.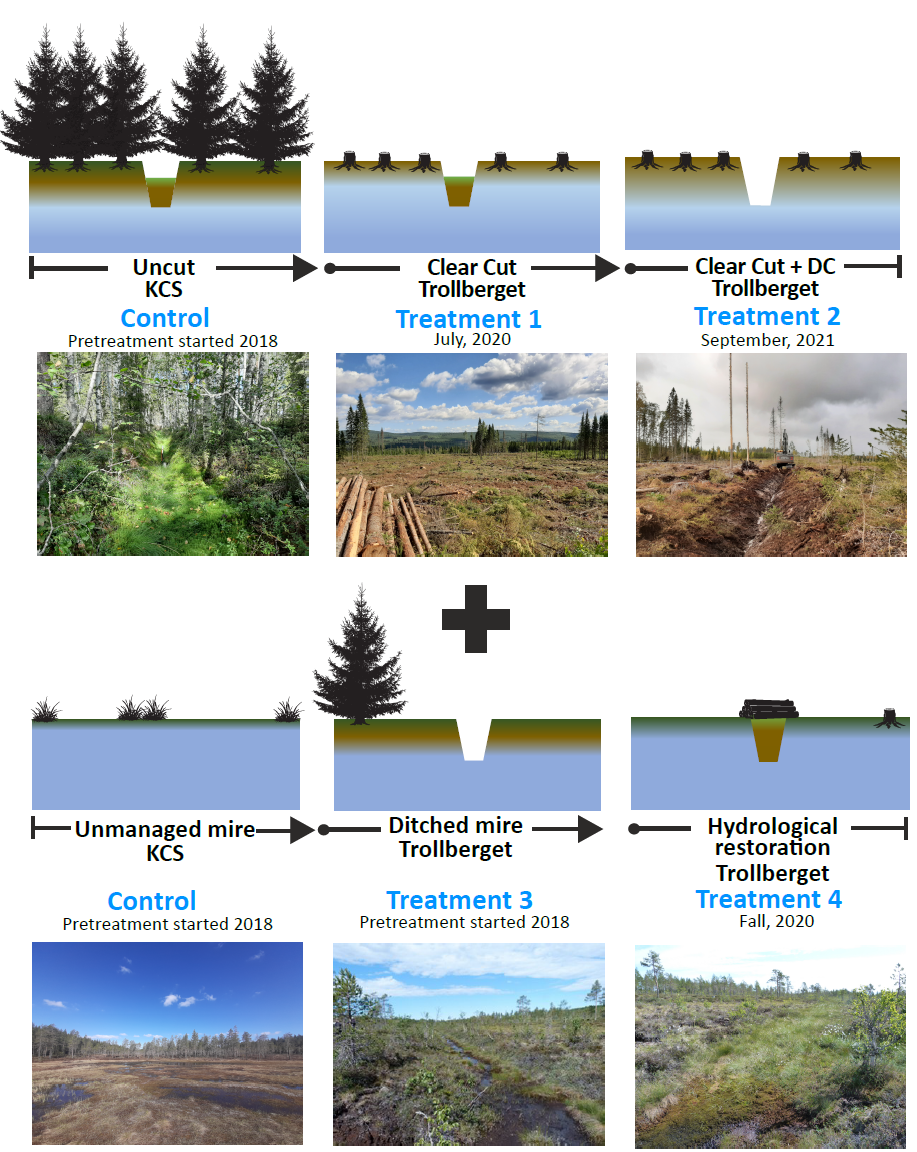 Above: Schematic showing the timing and types of treatments applied, with example photographs below. Pretreatment measurements in all catchments started in 2018. (Photos: Virginia Mosquera)
Ditch cleaning was performed with a standard excavator following the Swedish Strategic Management Objectives. Ecological restoration was performed using best practices, namely, by cutting the remaining trees on the mire, using them to create dams, as well as filling in the ditches with peat found on site. The original project has expanded to include other ongoing studies of forestry practices, including forest harvest and riparian buffer design as well as other potential environmental effects from these management actions, including greenhouse gas emissions, carbon and water cycling, and biodiversity, among others.
We are monitoring groundwater level and discharge in addition to measuring: Nitrogen, Carbon, Suspended Sediments, pH, Conductivity, CO2, Methane, O18, Deuterium, Anions, Cations, Absorbance/fluorescence, Mercury (Hg-Tot, MeHg) in runoff water at our 6 outlet weirs. We are also measuring carbon and greenhouse gas balance of the management treatments using the Eddy Covariance technique (tower locations in location map) and chamber measurements.
Above: Map of Trollberget Experimental Area and catchment-scale treatments.
Loading…