Nordic Nature Health Hub - The project
Last changed: 01 March 2023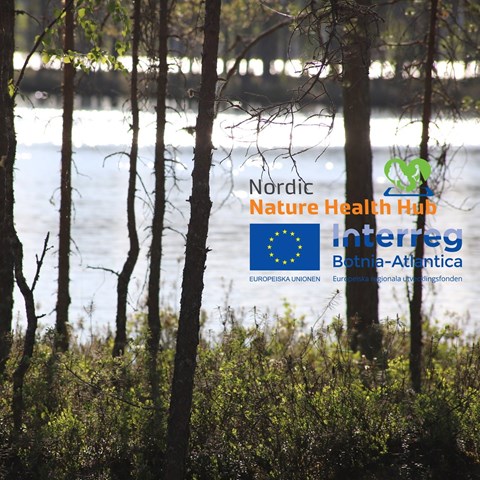 A research and development project! The goal of the project has been to establish a Nordic virtual platform for research, education and entrepreneurship in the field of nature and health. The purpose was to develop new tools and pass on verified knowledge regarding natures health effects and promote respect for natural and cultural heritage in an inclusive environment as well as create new opportunities for nature health entrepreneurs.
Nordic Nature Health Hub
is the name of an Interreg-project that run from 2018 to 2022. The main goal was to preserve, protect, promote and develop the natural and cultural heritage, specifically to increase sustainable use of natural and cultural heritage in the project area which was Mällersta Österbotten, Västerbotten and Österbotten.
Nordic Nature Health Hub, or "The Hub", were not just names for the project but also the virtual toolbox for nature entrepreneurs that remains after the project has ended. The hub is a web portal maintained by SLU (Swedish University of Agricultural Sciences). It contains easily accessible and easily understandable, validated knowledge concerning nature and health as well as Nordic courses and programs and the new tools produced during the project. The Hub brings together knowledge and competence in the field of nature and health.

During the project a Nature Health Map was made. An interactive web based application in the form of a digital map of the natural areas within the project area. With it, visitors can subjectively evaluate their well-being while they are at any given nature location in the area. During the project we also completed a Handbook for nature etrepreneurs, with an emphasis on sustainable entrepreneurship, ethics and the use of natural and cultural heritage. One research part in the project evaluated ways to Meassure health effects of naturvistelse on the clients of the nature entrepreneurs. Last but not least, a new pan-Nordic course in nature based activities and health was organised in the spring of 2021.
The project was coordinated by LUKE (Natural Resources Institute Finland) in Finland. The work was carried out in colaboration with Centria University of Applied Sciences, Univerity of Vaasa / The Levón Institute, Swedish University of Agricultural Sciences (SLU), Hushållningssällskapet Norrbotten-Västerbotten, Region Västerbotten, Umeå University, Kristinestads Näringslivscentral Ab and Länsstyrelsen Västerbotten (County Administrative Board of Västerbotten County)
The project was financed by EU Interreg Botnia-Atlantica, Region Västerbotten and Österbottens förbund (The Regional Council of Ostrobothnia).
We worked in the project Nordic Nature Health Hub:
| | |
| --- | --- |
| Natural Resources Institute Finland (LUKE) | Pia Smeds and Jenny Simkin |
| Centria University of Applied Sciences | Lena Enlund, Maria Hofman-Bergholm, Sara Kåll-Fröjdö |
| Länsstyrelsen Västerbotten | Johnny Berglund and Julia Pettersson |
| Swedish University of Agricultural Sciences (SLU) | Elisabet Bohlin and Ann Dolling |
| Hushållningssällskapet Norrbotten-Västerbotten | Anna Molander |
| Umeå University | Anton Halvarsson, Lisbeth Slunga Järvholm and Elisabeth Sonntag-Öström |
| Univerity of Vaasa / The Levón Institute | Martta Ylilauri and Marjut Levoska |
| Region Västerbotten | Lisbeth Slunga Järvholm |
| Kristinestads Näringslivscentral AB | Angelique Irjala och Amanda Lund |

---
Contact
PROJECT MANAGER:
Pia Smeds, Natural Resources Institute Finland (Luke), pia.smeds@luke.fi, +358 29 532 6549