The Plant Catabolism Laboratory
Last changed: 06 May 2021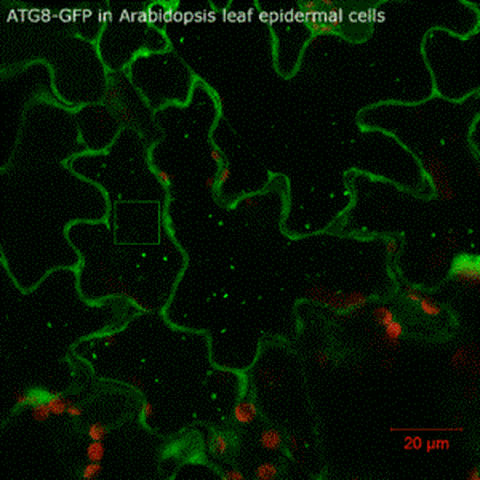 We are interested in the mechanisms and function of catabolic processes during plant development, aging and stress response at the molecular, cellular and organismal levels.
Our research is funded by the SLU, the VR, the Formas, the Swedish Strategic Foundation, the Knut and Alice Wallenberg Foundation, the Olle Engkvist Foundation, and the Carl Tryggers Foundation.
We are looking for a student for a Master Project! (Nov 2020)

Dr. Glenn Hicks, The August T Larsson Guest Researcher

More information on Glenn Hicks
Spara
Alumni
Dr. Catarina Cardoso
Dr. Lada Filonova
Dr. Kazutake Fukada
Dr. Anna Golovko
Dr. Emilio Gutierrez-Beltran
Dr. Panagiotis Moschou
Prashanth Ramachandran
Dr. Salim Hossain Reza
Dr. Eugene Savenkov
Dr. Maria Fernanda Suarez
Dr. Budhi Sagar Tiwari
Dr. Victoria Sanchez Vera
Dr. Andrey Zamyatnin
Dr. Viktoria Zamyatnina
Selected recent publications
AN Dauphinee, C Cardoso, K Dalman, JA Ohlsson, S Berglund Fick, S Robert, GR Hicks, PV Bozhkov, EA Minina (2019) Chemical screening pipeline for identification of specific plant autophagy modulators. Plant Physiol. 2019 Nov;181(3):855-866.
Elander PH, Minina EA, and Bozhkov PV (2018) Autophagy in turnover of lipid stores: trans-kingdom comparison. J Exp Bot 69, 1301-1311.
Minina EA, Moschou PN, Vetukuri RR, Sanchez-Vera V, Cardoso C, Liu Q, Elander PH, Dalman K, Beganovic M, Yilmaz JL, Marmon S, Shabala L, Suarez MF, Ljung K, Novák O, Shabala S, Stymne S, Hofius D and Bozhkov PV (2018) Transcriptional stimulation of rate-limiting components of the autophagic pathway improves plant fitness. J Exp Bot 69, 1415-1432.
Üstün S, Hafrén A, Liu Q, Marshall RS, Minina EA, Bozhkov PV, Vierstra RD, Hofius D (2018) Bacteria exploit autophagy for proteasome degradation and enhanced virulence in plants. Plant Cell 30, 668-685
Minina EA, Moschou PN, and Bozhkov PV (2017) Limited and digestive proteolysis: crosstalk between evolutionary conserved pathways​. New Phytologist 215, 958–964.
Minina EA, Coll NS, Tuominen H and Bozhkov PV (2017) Metacaspases versus caspases in development and cell fate regulation. Cell Death and Differentiation 24, 1314–1325.
Chen L, Stael S, Gevaert K, Van Breusegem F, Bozhkov P, Moschou P (2017) The Proteolytic Landscape Of An Arabidopsis Separase-Deficient Mutant Reveals Novel Substrates Associated With Plant Development. bioRxiv
Minina EA, Reza SH, Gutierrez-Beltran E, Elander P, Bozhkov PV and Moschou PN (2017) Arabidopsis homologue of Scc4/MAU2 is essential for plant embryogenesis. J Cell Sci 130: 1051-1063.
Gutierrez-BeltranE, Denisenko TV, Zhivotovsky B and Bozhkov PV (2016) Tudor Staphylococcal Nuclease: biochemistry and functions. Cell Death and Differentiation 23, 1739-1748.
Moschou PN, Gutierrez-Beltran E, Bozhkov PV, Smertenko AP (2016) Separase Promotes Microtubule Polymerization by Activating CENP-E-Related Kinesin Kin7. Developmental Cell 37: 350-361.
Moschou PN, Savenkov EI, Minina EA, Fukada K, Reza SH, Gutierrez-Beltran E, Sanchez-Vera V, Suarez MF, Hussey P, Smertenko AP and Bozhkov PV (2016) EXTRA SPINDLE POLES (Separase) controls anisotropic cell expansion in Norway spruce (Picea abies) embryos independently from its role in anaphase progression. New Phytologist doi: 10.1111/nph.14012
Gutierrez-Beltran E, Moschou PN, Smertenko AP and Bozhkov PV (2015) Tudor Staphylococcal Nuclease Links Formation of Stress Granules and Processing Bodies with mRNA Catabolism in Arabidopsis. Plant Cell 27: 926-943.
Minina EA, Bozhkov PV and Hofius D (2014) Autophagy as initiator or executioner of cell death. Trends in Plant Science 19: 692-697.
P.V. Bozhkov and G. Salvesen (Editors). Caspases, Paracaspases and Metacaspases. Series: Methods in Molecular Biology, Vol. 1133 Humana Press. 2014. ISBN 978-1-4939-0356-6.

Minina E, Filonova L, Fukada K, Savenkov EI, Sanchez-Vera V, Suarez MF, Daniel G, Clapham D, Gogvadze V, Zhivotovsky B, Smertenko AP and Bozhkov PV (2013) Metacaspase and autophagy determine the mode of plant cell death. Journal of Cell Biology 203: 917-927

Peng Zhao, Xue-mei Zhou, Li-yao Zhang, Wei Wang, Li-gang Ma, Li-bo Yang, Xiong-bo Peng, Bozhkov PV, Meng-xiang Sun. (2013) A bipartite molecular module controls cell death activation in the basal cell lineage of plant embryos. PLOS Biology 11(9): e1001655

Moschou PN, Smertenko AP, Fukada K, Savenkov EI, Minina EA, Robert S, Hussey PJ and Bozhkov PV (2013) The Caspase-Related Protease Separase (EXTRA SPINDLE POLES) Regulates Cell Polarity and Cytokinesis in Arabidopsis. Plant Cell 25: 2171-2186

Minina EA, Sanchez-Vera V, Moschou PN, Suarez MF, Sundberg E, Weih M and Bozhkov PV (2013) Autophagy mediates caloric restriction-induced lifespan extension in Arabidopsis. Aging Cell 12: 327-329
---
Contact
peter.bozhkov@slu.se, 018-673228
kerstin.dalman@slu.se, 018-673187
---
Links

Page editor: Henrik.Hansson@slu.se