Undergraduate studies
Last changed: 10 May 2022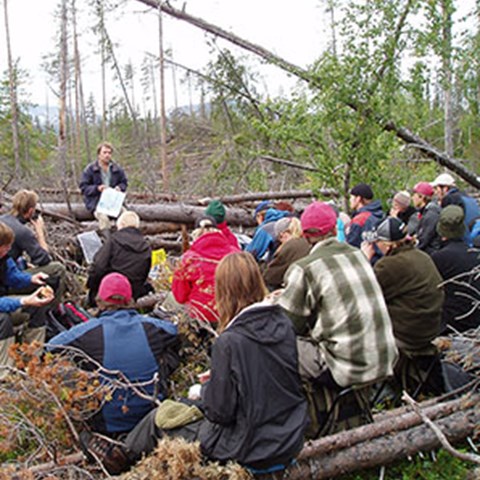 The department offers a range of courses in the fields of forest vegetation ecology, soil science and silviculture on basic and advanced level. The aim with our courses is to improve forest management in Sweden and globally based on the understanding of processes within the forest ecosystem.
Most of these courses are given within the BSc in Forestry programme. At the basic level we offer several courses in co-operation with other departments at the faculty of Forest Sciences.
Since 2019 we offer a new MSc-programme Forest Ecology and Sustainable Management! The programme courses are characterized by strong research connection and deal with current relevant topics for forestry and the understanding and management of forest resources. Courses during the growing season include field activities such as field measurements and excursions. The MSc-programme is developed for you who want to work with forestry and developing the understanding forest ecosystems and management of forest resources and international forest issues. In addition, we started a new course in tropical forestry in spring 2019 which that has developed into an open distance course. All together these courses will give you both broad and in depth knowledge and skills relevant for you who aims for a career in forestry and forest management.
We offer the following courses at advanced level:
Forest History - Human utilisation and vegetation dynamics,15 HEC.
Forest Ecosystem ecology, 15 HEC
Silviculture - the science of forest stand management, 15 HEC
Sustainable Management of Boreal Forest, 15 HEC,
Sustainable Forestry and Land-use Management in the Tropics, 15 HEC
We also offer a project course in soil science, 15 HEC, four occasions per year, i.e. one course per period. This course is intended especially for you who is aiming for a MSc-thesis dealing with soil science.
Read more about the exciting courses: when (period) and what (syllabus) here.
If you have any questions regarding the courses, please don't hesitate to get in touch with course organizers, director for the MSc-programme or head of undergraduate studies.
Thesis projects
We supervise several BSc-projects and MSc-projects annually at the department. Many of the theses are conducted in co-operation with forest companies, together with different authorities or on-going research projects at the department. MSc- theses published at the department from 2009 can be found in the open Epsilon archive for student projects. (including title and abstract in English + link to pdf-document).
Information about master thesis projects at the department – open projects, how to apply, and how to proceed is to be found here.
At the SLU Student web there are guidelines and more information on degree projects (independent projects).
General information regarding courses and studies can be found at the SLU Student Web.
---
For more information