"We need to find solutions for very small farmers"
Last changed: 25 November 2019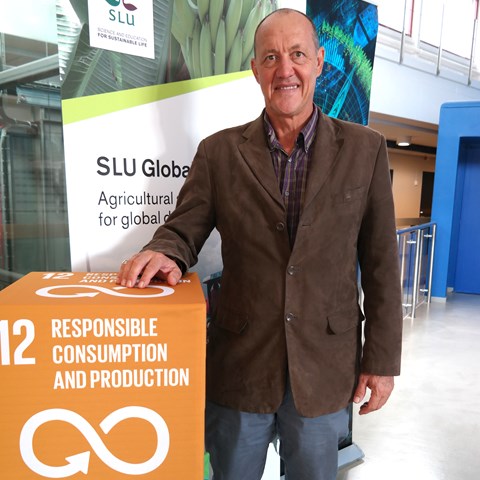 Eric Malézieux is a researcher at the Agroecological Functioning and Performances of Horticultural Systems Research Unit at the French Agricultural Research and International Cooperation Organization (CIRAD). He came to SLU in September to give a keynote speach at the Agricultural Research for Development Conference, Agri4D 2019. The question addressed toward agricultural for development is a topic of particular interest for him and for CIRAD.
How do you see that agroecological systems can face the challenges of food security in low-income-countries, and especially Sub-Saharan Africa (SSA), which is your field?
- I think that the green revolution in Africa didn't really work. There has been a lot of attempts to try to intensify with different technologies but the technologies were not adopted, yields are still very low compared to other situations, and investments are not made. Also, we have to consider that chemical intensification is not the solution as we can see all the negative impact of intensive agriculture all over the world, especially regarding environment.
- We need to find solutions for small farmers, and this should be mainly from a better use of local resources. Policies at the national scale have to help the small farmers to develop. Solutions based on biodiversity by the use of local resources, have to be put in the first place. It can benefit small family farmers directly by growing different crops and in that way improve the way smaller families can feed and be more autonomous. We have good examples for instance from complex agroforestry systems in humid tropical areas. They can provide a co-existing mix of services.
- So, I think that we need to find local solutions, not only at the farm-scale, but also at village and landscape level in order to intensify the production. We need to intensify the production in SSA, because nowadays yields and productivity of the systems in that region are among the lowest in the world.
How can we find the means? And what kind of support would the local famers need?
- For sure, I think they need external input, information, investment and different kind of incentives. I believe in the contact between the cities and rural situations, with platforms that could bring together different actors in order to create change. It is all about working at the different scales, the village, regional, and national of course, and maybe develop something together with a group of researchers for instance. We must work together, because no one alone has the solution.
Is this something that you see can be done?
- Yes, I hope so. The demography will continue to grow in Africa and climate change will not improve things, so it is necessary to find a solution. It is very complex when looking at export, for instance, when you look at the cocoa production it is important to understand the way the cocoa is produced in the field, to the way we consume it in Europe. There are huge profits in the process but the chain does not allow the famers to increase their level of living. When you go to see the farmers in Cameroon that are producing the cacao that we are eating, they have never eaten chocolate. It's the whole system that needs improvement at different levels. We are able to have sustainable ways of production and we can see situations where they could build diversified systems that can work. But there is no easy solution.
What should we focus on to reach zero hunger in 2030?
- As we have seen at this conference, it is not really a global threat right now in the sense of that the planet produces enough food and is even able to increase it a little bit. But the problem is accessibility in local situations. We have to work on these local situations and try to improve things through use of biodiversity, diversification, reinforcing the autonomy and availability for small farmers of producing.
How can SLU and universities in general contribute in reaching that goal?
- Universities have different roles. There is the activity of redesigning the systems with the farmers that is the role of some agricultural universities. Also, to have projects and locally trying to make things change. It is more a question of action, rather than knowledge per se. I think there is a lot of scientific knowledge already, but we need to find the methods to share and hybrid this knowledge with the farmers in order to improve the systems.
- Another role that universities can play is to address the policy makers and make sure that these matters come up on the political agenda at a world scale. Climate change is beginning to be at the top level and universities can inform the policy makers about the situation, the facts and what we should do. So, there are different levels of actions and all are important.
Do you have any final words?
- Well, on the scientific point of view I think it is important to be able to address both global and local questions and try to make the coherency between the two. That is not always the case and we have to be careful not to make wrong conclusions by changing scales also.
- And I was very happy for being invited to this conference, especially because the topic of the conference: Zero hunger in 2030. The question addressed toward agricultural for development is a topic of particular interest for me and for Cirad.
Thank you Eric!
Facts:
---
Contact