Interviews
Last changed: 18 March 2021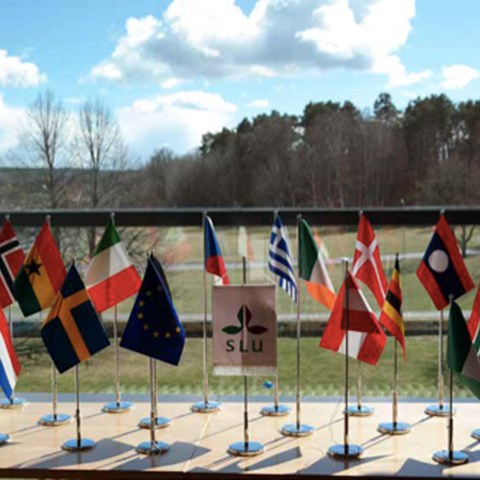 Voices from students, researchers and other professionals engaged in agriculture for global sustainable development.
Interviews with SLU Globals global network coordinators
SLU has five global network coordinators to promote SLU's work for global development, one for each faculty. They encourage dialogue and exchange of knowledge between departments, faculties and SLU Global. They also collaborate with the faculties' international committees and SLU's future platforms. Read more about them and what they want to achieve:
Assem Abu Hatab, Faculty of Natural Resources and Agricultural Sciences (NJ)
Miriam Frida Karlsson, Faculty of Natural Resources and Agricultural Sciences (NJ) Interview will come.
Christina Lunner Kolstrup, Faculty of Landscape Architecture, Horticulture and Crop Production Science (LTV)
Jonas Johansson Wensman, Faculty of Veterinary Medicine and Animal Science (VH)
Adan Martinez Cruz, Faculty of Forest Sciences (S) Interview will come.
Interviews at Agri4D 2019
"Agriculture is a corner stone in sustainable economic development"
Kerstin Jonsson Cissé
, Head of the Global Sustainable Economic Development Unit at the Swedish International Development Cooperation Agency (Sida), held a welcome speach at the Agri4D 2019.
"We need to find solutions for very small farmers"
Eric Malézieux is Director of the Agroecological Functioning and Performances of Horticultural Systems Research Unit at the French Agricultural Research and International Cooperation Organization (CIRAD). He gave a keynote speach at the Agri4D 2019.
"One of the most important policies is investing in rural young women"
Aslihan Arslan is Senior Research Economist at the International Fund for Agricultural Development (IFAD). She was invited to SLU to present the "IFAD Rural Development report 2019: Creating opportunities for rural youth", at the Agri4D 2019 conference.
Interviews with research students at SLU 2018
Interviews with young researchers at Agri4D 2017
Facts:
---
Contact

Page editor: malin.planting@slu.se