About nature-based health research
Last changed: 02 February 2023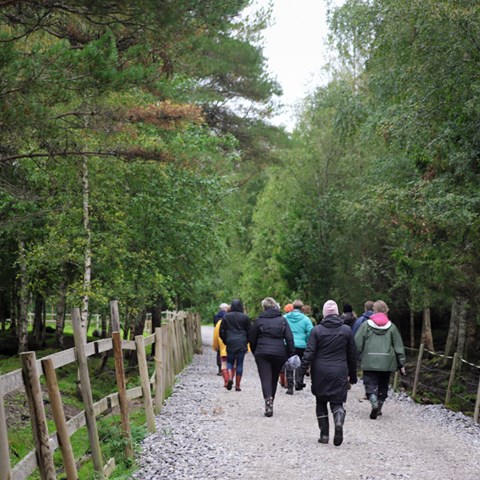 There is no doubt that nature stays and close contact with companion animals can have a positive effect on human health. Reduced stress, better concentration, relief from depression and longer life expectancy are just some of the health benefits identified in the last forty years of research.
Nature-based health research has underpinned the growth in nature- and animal-based therapeutic and wellness activities throughout the world. In Sweden, for example, nature and gardens are utilised as a resource in welfare and care of the elderly, as well as in the rehabilitation of exhaustion disorders and brain damage. Animals, such as service dogs and horses, are deployed in support roles and social functions in areas such as schools, welfare, care of the elderly and addiction support.
Nature-based health researchers work in many different scientific fields, such as medicine, psychology, environmental psychology, landscape architecture, forestry and occupational therapy. Each one is based in a scientific institution, a university for example, but often cooperates internationally and on an interdisciplinary basis.
A core concept is evidence – the probative value for research. At present, the evidential integrity in several areas of nature-based health is good and becoming ever more convincing.
As well as promoting care, welfare and similar benefits, nature stays in wild nature, parks and gardens can also be used for self-care and wellness. This "treatment" has many advantages: it is accessible to almost everyone, free of charge, open 24 hours a day and has negligible side effects. In addition, during the COVID 19 pandemic, nature has been the only environment in which people have been able to mingle safely, free from the risk of infection. In the absence of travel, restaurant visits, choir singing and parties, people have been wild swimming, picnicking in parks, cooking over open fires, skiing, canoeing and hiking. Even families with children and groups of friends unaccustomed to nature have discovered the outdoors, and the number of visitors to nature reserves and national parks has also broken records.
Animals such as horses, dogs and cats, etc., have also played a vital role during the pandemic, not least as companions and 'exercise buddies' for those who have lacked the opportunity for other everyday social activities. But even families with children have decided they need a pet and kennels have sold more puppies than ever.
Perhaps our reactions to the crisis could be significant for both future public health and future research. The increasing popularity of both nature stays and contact with animals sends clear signals to decision-makers and research funders:
This is important: People need animals and nature to feel good!
The research outcomes in brief
There are numerous research studies that show that nature stays and contact with animals can have a positive effect on human health.
Nature stays help prevent mental disorders, such as depression, anxiety and stress.


Outdoor activities can improve and redress short-sightedness in children and young adults.


Daylight and sunlight help. The light triggers important functions in the body and supports the natural circadian rhythm. This makes people sleep better, for example, but also seems to protect against serious illness.


There is a clear link between longer life expectancy and living near green spaces. The further removed we are from these, the more we experience ill health. Statistically, the benefit of living near greenery is greatest for people with a low socio-economic status.


Outdoor air is often better for health than indoor air. This also applies in urban environments, especially in larger parks and green spaces with lots of trees and bushes.


Nature stays can result in better existential health. Comfort, inner strength, a feeling of connection in an undemanding environment can be difficult to grade and measure, but interviews and survey studies show that this is precisely what nature can provide.


Contact with animals can mean a lot for a person's well-being. The studies carried out so far are relatively small and are therefore considered to have limited probative value. More research is therefore needed. (At an individual level, however, there is no doubt that companion animals can improve health outcomes in different ways. For example, if you have a dog or horse, you usually get a lot of physical activity, which is proven to be good for your health.)
/Text: Åsa Ottosson
Read more about research on these pages
---
Contact