Biotechnology for Sustainability – Final Report from Mistra Biotech 2012-2020
Published: 14 July 2020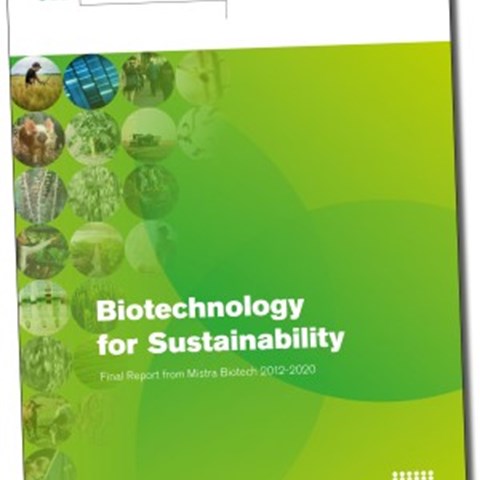 Mistra Biotech is a Swedish research programme that has been working for eight years to advance the use of modern biotechnology for a more sustainable agriculture. We have done this on a broad basis, conducting research in social science, ethics, legal studies, plant breeding, and animal breeding, with a strong focus on interdisciplinary co-operations. Our achievements are now summarized in a final report.
In June 2009 the Board of Directors of The Swedish foundation for strategic environmental research (Mistra) decided to invite proposals for a programme about biotechnology for the environment, including the social and ethical aspects of applied biotechnology. Further discussions resulted in a call that had its focus on agriculture and food systems. A proposal from SLU, in consortium with Lund University and the Royal Institute of Technology (KTH) won the competition, and in 2012 the research programme Mistra Biotech was launched with SLU as the host.
Over the eight years more than 100 researchers have been involved in Mistra Biotech, either through a funded position or through some other form of collaboration. Most of us have been affiliated with SLU, but some of us work at KTH, Lund University, Roskilde University, Uppsala University, the University of Copenhagen or the University of Gothenburg. 2020 marks the end of Mistra Biotech, and the time has come to summarize our research.
Our main focus has been on the use of biotechnology for agriculture and food systems that are sustainable from ecological, ethical, social, and economic perspectives. Mistra Biotech has been highly interdisciplinary and unique in the way it has provided a platform for direct and close co-operations throughout the programme period between researchers in the natural sciences, social sciences and humanities.
You will still be able to find our podcast Shaping our food, a new edition of the book Shaping our food – an overview of crop and livestock breeding and all our reports at www.slu.se/mistrabiotech/en. Read or download the pdf of the final report here or send your postal address to mistrabiotech@slu.se to receive a printed copy.
---
Contact
mistrabiotech@slu.se
+46 (0)18 672232
---
Links: